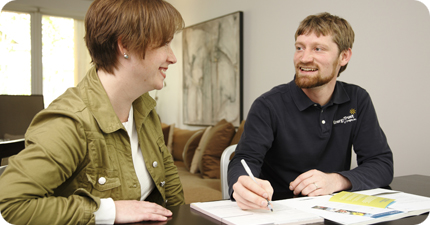 Oregonians' awareness and approval of Energy Trust is strong and continues to grow, according to a survey recently released by the nonprofit organization. The 2012 Oregon Residential Awareness & Perceptions Study reports that 61 percent of survey respondents said they had heard of Energy Trust, up from 56 percent in 2011 and 48 percent in 2010. Energy Trust conducted this fifth annual survey of residential customers to gauge general awareness of programs and services, ensure marketing and outreach efforts are reaching customers in all regions of the state, and to help guide marketing strategy decisions.
Awareness of Energy Trust in 2012 equaled or exceeded levels reported in 2011 in all geographic regions and utility service areas the organization serves.
Southern Oregonians reported a substantial increase in awareness, 58 percent in 2012 compared to 41 percent in 2011. A number of Energy Trust representatives in the area help develop awareness through personal contacts. Pacific Power, the region's investor-owned electricity supplier, collaborates on communications that introduce Energy Trust to area ratepayers.
East of the Cascades—an area also served by Energy Trust representatives, Pacific Power and Cascade Natural Gas—58 percent of survey respondents had heard of Energy Trust, up from 45 percent in 2011.
As in prior years, awareness remains highest in the Portland metro area, where 66 percent of those surveyed said they had heard of Energy Trust. Customers of the two utilities with the largest presence in the region—PGE and NW Natural—reported the highest awareness levels among Energy Trust affiliated utilities.
More than 70 percent of respondents aware of Energy Trust consider the nonprofit a credible information source to learn about energy efficiency and renewable energy. Among respondents who have participated with Energy Trust, more than 90 percent reported Energy Trust as a trustworthy source of information.
Utilities help influence their customers to use Energy Trust services. Thirty percent of respondents engaged with Energy Trust after being introduced to the nonprofit by their gas or electric utility. No other conduit of initial information about the nonprofit produced such strong results, showing the value of Energy Trust collaboration with PGE, Pacific Power, NW Natural and Cascade Natural Gas to reach and serve customers.
The survey pinpointed "saving energy and money" as the most powerful motivator for respondents to take action on saving energy. Twenty-one percent of respondents reported having received an incentive from Energy Trust or using one of its services. Energy Trust services most frequently cited included payments for recycling old refrigerators and freezers, rebates for new, energy-efficient refrigerators, freezers and clothes washers, and free energy saver kits.
The survey sample size was 847 respondents, delivering an overall confidence level that results are 95 percent accurate within a range of plus or minus 3.5 percentage points.