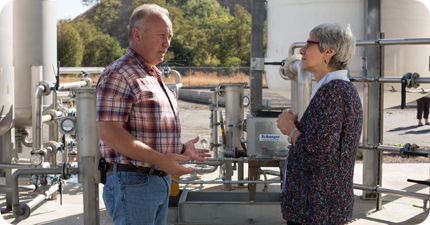 Energy Trust Executive Director Margie Harris traveled to Pendleton this fall to tour local energy-efficiency and renewable energy projects, meet with participants and city representatives and highlight the region's clean energy investments and results. The visit was part of the organization's recognition of a decade of delivering energy solutions to more than 1.5 million utility customers in Oregon and southwest Washington. Energy Trust's Eastern Oregon outreach manager, Susan Badger Jones, and Renewable Energy Sector Lead, Thad Roth, also participated in the tours and meetings.
In northeast Oregon, including Baker, Malheur, Morrow, Umatilla, Union and Wallowa counties, Pacific Power and Cascade Natural Gas customers have accessed Energy Trust technical assistance, studies, services and $11 million in incentives to use energy more efficiently and benefit from renewable energy over the last 10 years. More than 30 local companies, affiliated with Energy Trust as trade ally contractors, have helped customers identify and implement tailored energy solutions.
By completing these energy-saving projects at 5,300 homes and 400 commercial, industrial and agricultural business sites, participants throughout the region saved nearly $12 million on their energy bills in 2011 alone. Their energy investments resulted in 160 million kilowatt hours of electricity saved and generated, and 283,000 therms of natural gas saved. This is equal to the energy needed to power all the homes in La Grande, and to heat another 560 homes with natural gas, for one year. Additionally, 100 solar electric systems were added to rooftops.
While in Pendleton, Energy Trust staff visited local projects, including the Pendleton Wastewater Treatment Plant where Plant Superintendent Mark Milne (pictured) showed how the plant uses grease and other waste to generate on-site renewable electricity. They also visited the Confederated Tribes the Umatilla's Tamastslikt Cultural Center.
To mark progress and learn more about what Pendleton-area residents are planning for the future, Energy Trust hosted a reception at Hamley's restaurant. More than 45 attendees, including Pendleton City Council members, Pendleton City Manager Robb Corbett and local trade ally contractors, participated in the discussion. Pendleton Mayor Phil Houk, Cascade Natural Gas Senior Conservation Analyst Jim Abrahamson and Pacific Power's Blue Mountain Area Regional Community Manager Bill Clemens acknowledged the local efforts and investments made to save energy and generate renewable power.