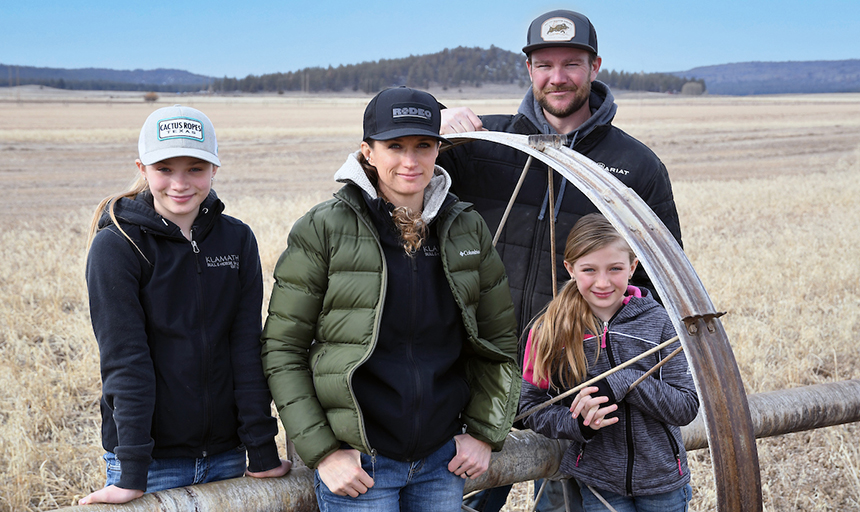 Water is a precious commodity in drought-stricken southern Oregon. In Klamath County, a rural area known for its natural beauty, farming culture and outdoor recreation, local producers are having to make tough choices as they navigate dwindling resources.
For ranchers Cameron and Garrett Duncan, the solution is personal. They are part of a new generation of farmers concerned about how a changing climate will impact what they will leave behind for their children.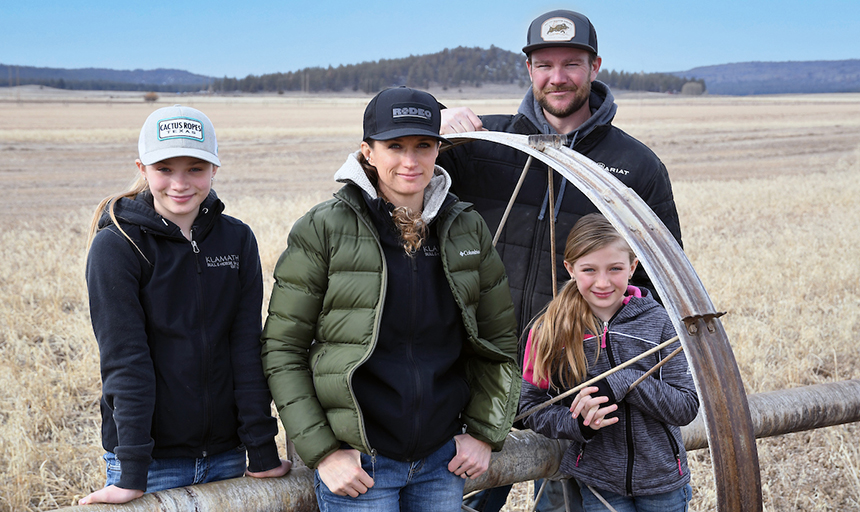 The Duncan family has been farming and ranching in Sprague River for nearly 20 years. This year they will be upgrading to pivot lines from inefficient wheel lines, shown above, as one way to preserve their land for the next 20 years and beyond.
"I've seen a shift, especially in my age group," reflected Cameron. "We want a productive ranch for future generations and that starts with incorporating drought-resilient upgrades before it's too late."
The Duncans arrived in the community of Sprague River in 2005. They moved onto the same 230-acres as Cameron's parents and built their own house from the ground up. Garrett spent his first eight years under the mentorship of a local rancher, whose land they would ultimately buy and start Duncan Livestock and Hay. From the start, efficient energy and water use were central to their farming practices.
"Since the beginning, we have been looking for ways to find a path towards sustainable farming. The old model of farming is simply not going to keep working with limited resources." – Cameron Duncan
Now, five years after buying their land, the Duncans are planning major upgrades with the help of local organizations including Energy Trust of Oregon , Sustainable Northwest and Wy'East Resource Conservation and Development.
Taking advantage of Energy Trust irrigation incentives and strategic support, this year the Duncans are embarking on a multi-phase project to dramatically lower their energy and water use.
The Duncans first heard of Energy Trust at a monthly workshop hosted by Sustainable Northwest, which connects local producers and vendors to information and funding opportunities to improve their businesses.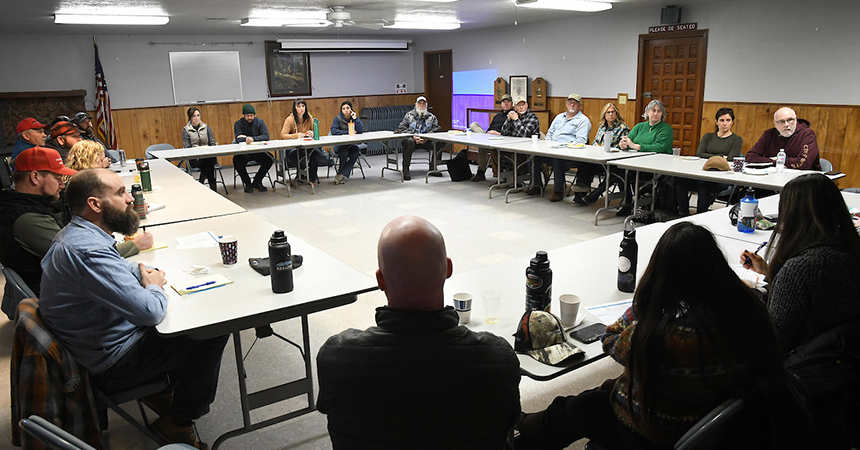 On a quarterly basis, Sustainable Northwest hosts a listening session with local farmers. The Duncans attend nearly every one, and encourage their fellow farmers to come as well.
"The folks here are all too aware of our resource limitations and want to do what they can to be good stewards of the land they love," said Kelley Delpit, Klamath Basin manager for Sustainable Northwest and fellow rancher. "However, there is a lot to navigate—upgrades are expensive and grant applications burdensome. That's why these workshops have been so pivotal in helping producers in the most tangible, realistic way."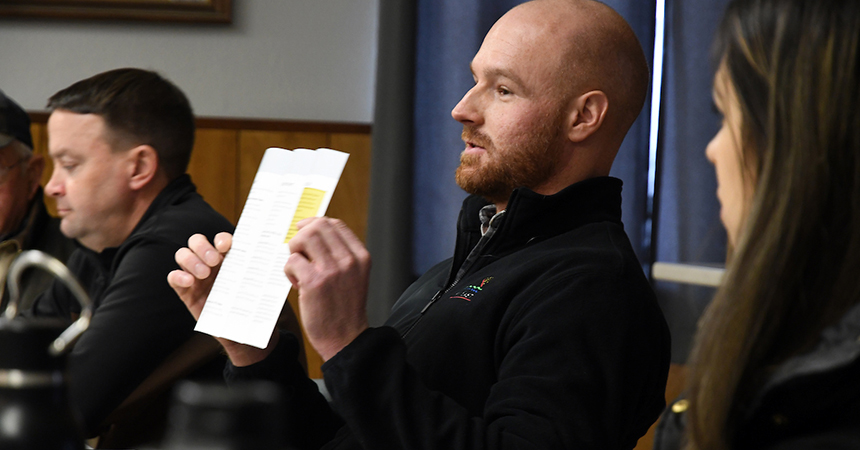 Brad Moore, agriculture program engineer with Energy Trust, attends the workshops hosted by Sustainable Northwest to connect directly with local producers about their upgrade options.
As a result of these workshops, the Duncans were able to receive an energy assessment—partially funded by Energy Trust—for their existing system which outlined recommendations for improvement. It also opened the door to a $250,000 grant from the Oregon Watershed Enhancement Board.
With the grant and Energy Trust incentives, the Duncans have hired local irrigation company and Energy Trust trade ally, J.W. Kerns, to transition their existing wheel lines to pivot systems. Pivots require much less labor, are more efficient and will result in up to 40% water savings according to Sustainable Northwest's predictions. Other projects to come include a new pump station, variable frequency drive and two more pivots. The Duncans also hope to install solar panels and are exploring the best ways to enhance soil health without fertilizers.
"It has been a pleasure working with the Duncans as they navigate this process, these types of upgrades can be an undertaking," said Brad Moore, agriculture program engineer with Energy Trust. Moore works to connect agricultural customers with Energy Trust offerings and any resources they may need. "It's inspiring to see how Cameron and Garrett have rallied their community and have become ambassadors for sustainable agriculture."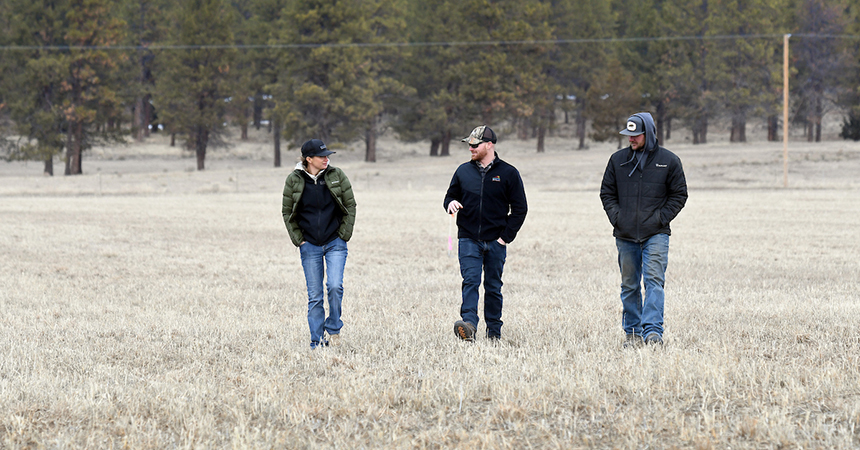 The Duncans have been working with Energy Trust and program engineer Brad Moore on various upgrade projects for years.
Once complete, the Duncan's hope the upgrades they're doing can serve as a model for other farmers and ranchers in the area.
"On the ranch, everything comes back to water—every drop counts," said Cameron. "Water and energy upgrades are hugely important to make our land more resilient and manage existing resources. I encourage everyone to explore their options."
Learn more about energy-efficient options for your ranch and start saving for years to come.