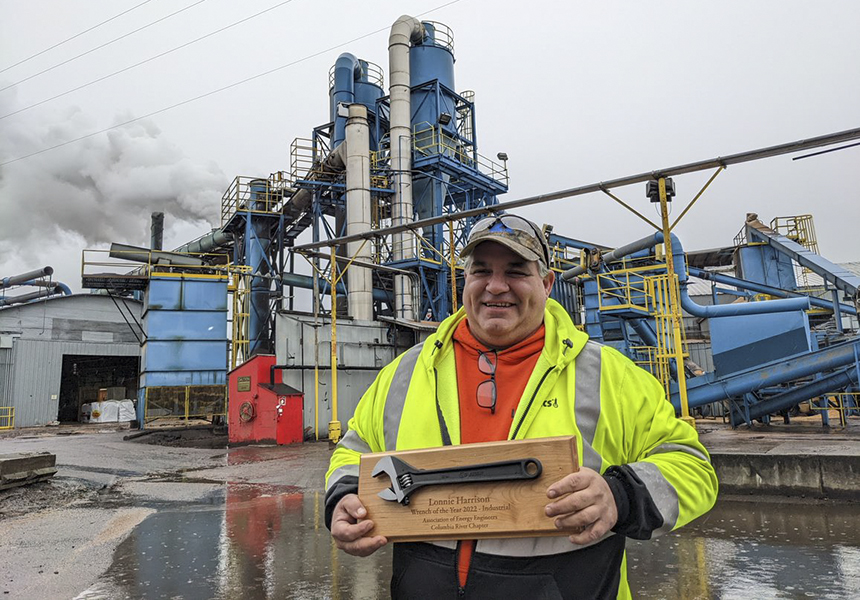 Lonnie Harrison, maintenance manager, Bear Mount Forest Products
The Wrench of the Year award honors onsite facilities personnel who best exemplify the spirit of hard work, responsibility and determination that resulted in the successful implementation of an energy efficiency project. The Columbia River Chapter of the Association of Energy Engineers, hosts the annual award to recognize and celebrate the boots on the ground who are essential to energy efficiency throughout the region.
Energy Trust of Oregon is pleased to congratulate Lonnie Harrison, maintenance manager at Bear Mountain Forest Products for receiving the 2022 award! Lonnie earned the reward from his efforts to install new energy efficiency equipment at his facility and by serving as his plant's Energy Champion, leading their Strategic Energy Management (SEM) initiative.
Dave Hall, the Energy Trust Strategic Energy Management (SEM) Coach who nominated Lonnie for the award said, "Lonnie has been hands on in identifying and implementing projects, and he has helped change the culture of the organization by actively questioning assumptions about how the facility needs to be run, as well as showing a willingness to experiment and try new things."
For additional information and to find out how you can nominate your colleagues for the 2023 Wrench of the Year awards, visit www.aeecrc.org/awards.