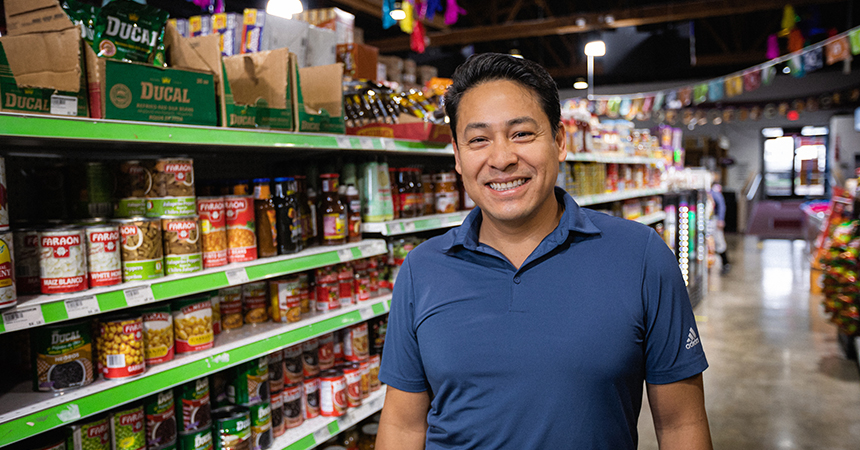 For 13 years, Villas Market, a family-owned Hispanic grocery store and market, has been more than a business for the Hispanic community in Portland—it has been a community hub. According to Medardo Villanueva, owner of Villas Market, he has "clients who used to bring their kids. Now, some of those kids are parents!"
Villanueva fully attributes his success to Oregon's thriving Hispanic community. When he started Villas Market, he only had a small shop in Vancouver, Washington, with a minimal selection of prepaid services, such as prepaid phones and money transfers. At the request of his customers, he expanded his offerings to include a wide selection of groceries and Hispanic food products. Eventually, Villas Market outgrew its location and in 2018 the market moved to a nearly 12,000-square-foot storefront in Happy Valley, Oregon.
With the new larger space and services, came an increase in energy use and bill. "The first electricity bill that arrived scared me. It was more than I paid in rent at the previous location," said Villanueva. Knowing he had to do something to reduce energy costs, he contacted other business owners and learned about Energy Trust of Oregon's cash incentives for energy-efficiency upgrades. At first, it seemed too good to be true, but Villanueva soon realized that he could rely on Energy Trust to help reduce his energy use and costs.
The first project he completed was replacing the lighting in the market with more energy-efficient LED lighting. "In the first month after replacement, my utility bill savings were huge! I couldn't believe it," said Villanueva. "It was like being able to breathe again."
Recently, Villas Market opened a kitchen with takeaway food options which introduced a new challenge, keeping food warm to maintain food quality and safety. While shopping for equipment to meet his needs, he learned Energy Trust could once again help him with a cash incentive to purchase energy-efficient hot food holding cabinets.
Villanueva received a $900 cash incentive to help with the purchase of two holding cabinets, reducing his out-of-pocket expense by 45%. "The [hot food holding] cabinets I was thinking of buying cost me half of what these cost me. However, the Energy Trust rebate and the reduced energy costs, made these a better option."
Villanueva is "thankful that these programs exist. They've really benefited me. Not only have I benefited, but they allow me to provide better service and help others." For Villanueva, it all comes down to the impact he can have on his community.
Learn more about Energy Trust's available incentives or call 1.866.605.1676.