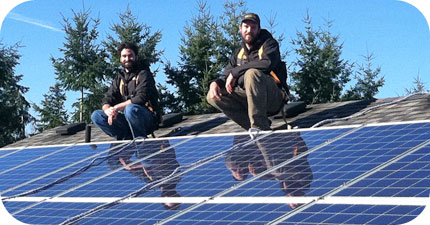 Synchro Solar is an Energy Trust Solar trade ally contractor specializing in the design, project management and installation of solar electric and solar water heating systems for Oregon homeowners, businesses and farms. "We became a trade ally because Energy Trust holds their allies to a higher standard for both installation and system performance, which in return provides us with access to incentives for our customers that really help to make solar energy a good investment," said Jennifer Hall, operations manager. "Our customers are extremely pleased at the ease of working with Energy Trust and the assurance of quality."
Located in Portland and operating with a staff of eight, Synchro Solar said it completes an average of 30 projects per year within Energy Trust service territory. "A recent project we are especially proud of was for a homeowner, also running her business out of her home, who is now able to offset roughly 80 to 85 percent of her home energy use with a 3.2-kilowatt array," said Hall.
The company, which has made it a policy for all project managers and crew leaders to be North American Board of Certified Energy Practitioners (NABCEP) certified and have a minimum of five years installation experience, was founded by installers, which may account for its focus on education, service and quality.
Hall tells us that although the price of installing solar energy systems has decreased dramatically in recent years, Energy Trust incentives are still necessary to make solar a feasible investment for many homeowners.