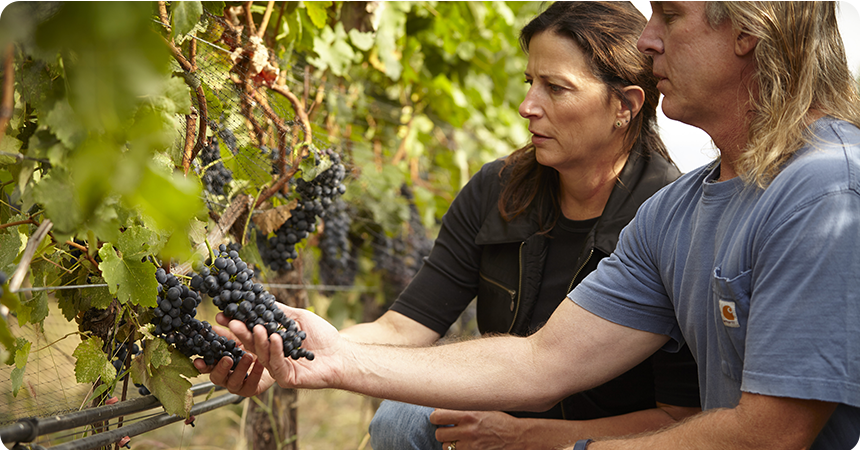 Back in 2002, Bill and Barbara Steele purchased a plot of land in Southern Oregon's Applegate Valley with dreams of producing high-quality wines with a focus on sustainability. Today, Cowhorn Vineyard is well regarded for both its wines and its organic farming practices.
Bill and Barbara's strong environmental commitment has carried over to the vineyard's new tasting room and storage facility, which was designed to achieve net-zero energy use with help from Energy Trust's Path to Net Zero offering. Energy Trust provided cash incentives, technical guidance and support from early design all the way through the construction process.
Architect Erica Dunn of Green Hammer worked closely with Bill and Barbara, as well as Energy Trust, to bring a variety of innovative, high-efficiency features into the design of the new tasting room. With both an outside and inside layer of insulation, plus a layer of rigid insulation to prevent thermal bridging, the building is perfectly set to maintain the proper temperature in any season. High-performance windows, specially coated siding and a combination of abundant natural light plus energy-efficient LEDs bring further energy savings to the space.
Cowhorn Vineyard has future plans to install solar panels and received Energy Trust incentives for an assessment. The evaluation revealed two existing buildings on the site with prime rooftop real estate for a 16-kilowatt solar electric system.
For Bill and Barbara Steele, efficiency extends far beyond the new construction site. They also employ highly sustainable farming practices and are even designing their new home to earn Earth Advantage Platinum certification.
"We have a chance to minimize our imprint on the Earth, and why wouldn't you take that chance?" said Bill.