While Portland continues replacing 45,000 of its dated street lamps with LED lights, many other cities throughout Oregon are also discovering the energy savings, lower maintenance costs and other benefits that come with these long-lasting lights.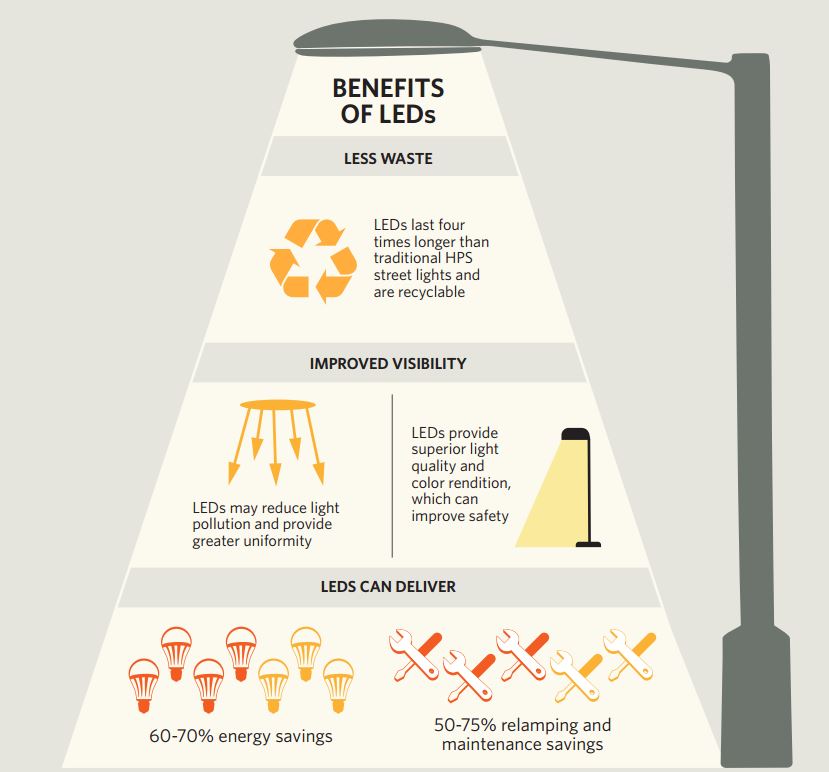 Lake Oswego partnered with Energy Trust and Portland General Electric to replace more than 1,600 fixtures with LEDs, approximately 40 percent of the city's street lights. The new lights make Lake Oswego streets safer by improving lighting conditions for drivers, bicyclists and pedestrians. The new LEDs have superior light quality and help increase night sky visibility by minimizing light pollution.
"This project was completed seven months early and under budget," says Lake Oswego Mayor Kent Studebaker. "The streetlight upgrades should pay for themselves in four years. After that, the city can put these savings toward addressing other street-related needs." Lake Oswego received more than $80,000 in Energy Trust incentives and expects to realize approximately $130,000 a year in combined energy and maintenance savings.
Energy-saving LEDs are bringing improved lighting quality and visibility to the streets of Klamath Falls. The city worked with Pacific Power and Energy Trust in a three-phase project that launched in 2012. They began by replacing lamps in the city's industrial area and then fanned out to residential neighborhoods. Upon completion of the project, Klamath Falls replaced over 1,900 outdated lamps with new LED fixtures. The addition of LEDs has increased the distribution of light between poles improving visibility.
Klamath Falls received more than $72,500 in Energy Trust incentives and expects to save of over $42,600 annually. "We're already seeing significant savings in maintenance costs," noted Klamath Falls maintenance and street lighting manager Kelly Brennan. "We used to replace 350 streetlights every year. Now, we're only replacing 170 lamps that haven't been upgraded yet to LED."
"LEDs give off crisp, bright, quality light so people see better and feel safer," Brennan adds. "And Energy Trust helping with these projects is a big bonus."
See savings in a whole new light in your community. Learn more on the Energy Trust website.