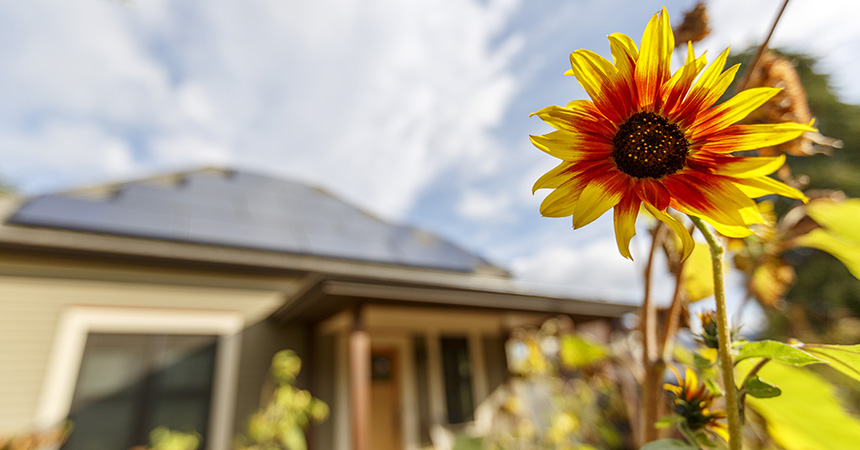 Energy Trust is working with the City of Milwaukie and Solar Oregon to help more Oregonians benefit from solar energy. Installing solar at your home lowers energy bills, reduces carbon emissions and can increase energy independence. Milwaukie is following the footsteps of other municipalities that have helped residents go solar, from Portland to Pendleton to Eugene.
The City of Milwaukie is beginning a city-wide Solarize Milwaukie program to help homeowners install solar more easily and affordably. The costs are lower thanks to group purchasing of solar panels and taking advantage state tax credits and Energy Trust incentives. Following a competitive solicitation process, the city selected Energy Trust trade ally Sunlight Solar Energy, Inc. as the vendor.
Interested homeowners can sign up online to receive a bid that includes estimated system costs, tax credits and Energy Trust incentives, and annual utility bill savings. A new feature of the Solarize Milwaukie program is the option to learn about and add other efficient technologies, such as batteries for storing electricity, smart thermostats and electric vehicle charging. Options like these can help homeowners maximize the benefits from their solar panels. Residents must sign up to participate in Solarize Milwaukie by Friday, October 6, 2017, and sign a contract with an installer by Monday, October 23, 2017.
"We want to make it easier for Milwaukie residents to learn about how solar would work on their own homes, and the incredible benefits it could bring both them and the community," said Mayor Mark Gamba in an interview with The Clackamas Review. "Using solar power saves money on energy bills, increases the livability of our neighborhoods, and reduces our environmental impact. Everybody wins when we reduce our use of fossil fuels."
The city aims to increase the community's use of solar from 733 kW to 2.2 MW by 2021—which would require roughly 8 percent of Milwaukie's single-family homes to install solar panels. Since 2002, Energy Trust has helped 10,000 customers around the state harness solar power to generate clean energy and save money.