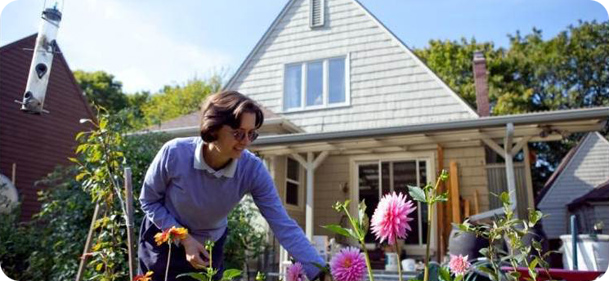 It began in 2009 when a group of dedicated homeowners in Southeast Portland developed a plan to engage the purchasing power of their community. The Southeast Uplift Neighborhood Coalition worked with Energy Trust of Oregon to negotiate a bulk purchase approach for community members to install solar on their homes. They selected an Energy Trust solar trade ally contractor through a competitive process and negotiated a limited-time offer that was 20 percent below the average retail rates. Volunteers mobilized to spread the word and solar workshops were held within the community. In the end, 350 homeowners enrolled in the effort and 120 installed solar on their roofs. The "Solarize" model was born.
Since then, the Solarize model has been replicated in many Oregon communities, including many Portland neighborhoods receiving support from the City of Portland Bureau of Planning and Sustainability. More than 20 Solarize efforts have been initiated throughout the state with 3,100 enrollments resulting in approximately 1,000 solar electric system installations. The peak year was 2010 with more than 500 Solarize installations representing 50 percent of Energy Trust's residential solar activity. Also that same year, Energy Trust received a 2010 State Leadership in Clean Energy award for its involvement in helping develop the initial Solarize effort in Portland.
Other states have adopted the Solarize model as well. Massachusetts and Connecticut have followed Oregon's lead in developing successful Solarize efforts in many New England communities. A recent Clean Energy State Alliance webinar profiled the approaches and lessons learned by efforts ongoing in Oregon, Massachusetts and Connecticut.
Solarize efforts have raised concerns that the projects are awarded to a single contractor by the community, or they may require a contractor to scale up to meet demand only to find that they are overstaffed when the program is completed. In 2012 Rogue Solar in Southern Oregon took an innovative approach that resolved many of these concerns. Rogue Solar negotiated a reduced price for hardware with a regional distributer and invited all of the local contractors to participate in the effort. The effort resulted in 140 enrollments and more than 50 installations in a rural region that covers almost 4,500 square miles.
By 2012 the number of Solarize projects received by Energy Trust dropped to about 250. This may be because the Solarize model has lost some of the initial excitement and publicity associated with the early efforts. There are also some Solarize projects that are not visible to Energy Trust because they pursue alternate financial incentives that were not available in 2009. Even with the decline in activity, Solarize projects continue to make up about 25 percent of the projects receiving Energy Trust incentives.
To support additional efforts by Oregon communities, Energy Trust, the City of Portland Bureau of Planning and Sustainability and Solar Oregon contributed to the development of the Northwest Sustainable Energy for Economic Development's Solarize Guidebook.