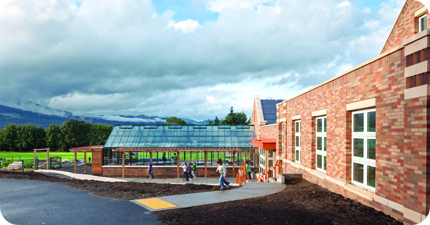 Energy Trust provides comprehensive services and incentives to support construction of high-performance commercial buildings and major renovations for buildings in Oregon. Recent findings from Energy Trust's Path to Net Zero pilot show net-zero onsite energy use is within reach for a variety of commercial buildings—particularly smaller facilities. These results echo discoveries being made nationwide and point to a bright future for net-zero buildings.
Net-zero energy use is a critical step toward dramatically lowering the energy and carbon footprints of buildings. Until recently, limited project experience and resource constraints have hindered widespread development of net-zero buildings. To help overcome these barriers, Energy Trust launched the Path to Net Zero pilot in 2009. One of the first of its kind in the country, the pilot offered enhanced early design ad technical assistance and cash incentives to help project teams develop innovative, high-performance design strategies.
Oregon design teams responded enthusiastically to the challenge, exceeding expectations and revealing the increasing level of interest in and need for net-zero buildings—not only in the design community, but also among building owners and developers. The 13 projects enrolled in the pilot included schools, higher education, multifamily, office and community gathering spaces. Eight projects have been completed to date, four of which are within 5 percent or less of reaching net zero. The others are predicting or demonstrating energy-use reductions of 50 to 60 percent beyond 2007 Oregon code requirements
Despite differences in building type, size and available resources, the pilot identified common characteristics to which these results may be attributed:
All of the projects established energy goals early and remained committed to those goals throughout design and construction.
They used an integrated design approach to explore and implement strategies that are not common in typical building designs in the United States.
Project teams found deeper energy savings by altering the requirements for space use, scheduling, temperature ranges and occupant interaction.
For the most part these projects feature cost-effective, market-ready technologies.
Based on these findings, Energy Trust will continue to offer enhanced incentives to building owners who commit to net-zero or net-zero-ready goals. In addition to offerings for energy-efficient equipment, renewable energy technologies and commissioning, Path to Net Zero projects will be eligible to receive enhanced incentives for early design assistance, energy modeling and additional energy-related design studies.
Watch videos about completed Path to Net Zero projects and the overall pilot, and learn more about how projects in Oregon are helping set the course for the future of the building industry. Access video case studies of the completed buildings on Energy Trust's website.
Photo of the Hood River Middle School courtesy of Michael Mathers.