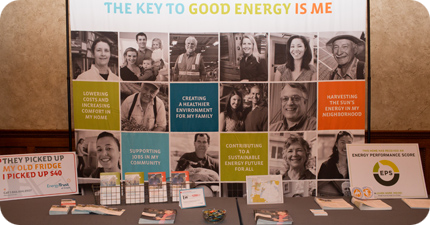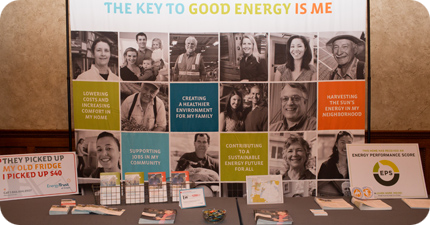 Energy Trust recently exhibited at two free energy fairs hosted by the City of Gresham. Approximately 150 families, senior citizens and other Gresham residents attended the fairs held at Rockwood Library and the downtown Gresham Library. The energy-efficiency fairs helped Energy Trust inform and engage with the Gresham community—raising awareness about the benefits of improving home energy efficiency.
With the help of a Spanish speaking translator, Energy Trust representatives spoke with more than 100 event attendees about available Energy Trust incentives, services like a Home Energy Review and no- and low-cost tips to use less energy.
"Events such as these are a great opportunity to get out in a community and help residents gain access to Energy Trust's energy-saving solutions," said Marshall Johnson, residential program manager, Energy Trust. In addition to Energy Trust, other exhibitors included Multnomah County, Clean Energy Works Oregon, Rockwood Water District, Home Depot and Indow Windows. "The two energy-efficiency fairs filled a need for getting this type of information to Gresham residents," said Nicole Cousino, energy program coordinator, City of Gresham.
The fairs are part of a broader effort by the City of Gresham to inform residents about how to be energy efficient at home. More resources for Gresham residents can be found at www.greshamoregon.gov.