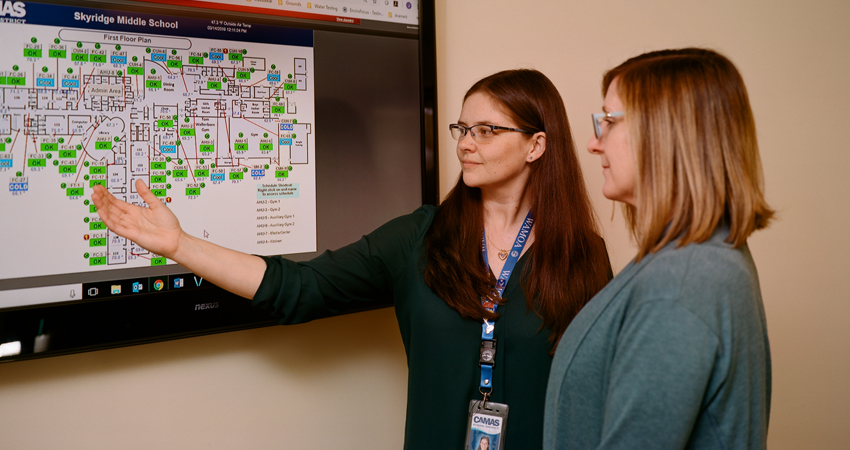 Camas School District operations administrator, Jessica Beehner, reviews the status of Skyridge Middle School's CO2 sensors via direct digital controls with colleague, Bridget Flanagan at the Zellerbach Administration Center.
When nearly 5,000 students take their seats each day in classrooms across the Camas School District, they count on having opportunities to discover and learn. That's a lot of students, and a lot of facilities to maintain. In 2016, Camas voters passed a bond measure that enabled the school district to construct several new schools. The bond also made way for improvements in existing facilities.
Thanks to energy-efficient upgrades across seven of their buildings, the district's young people now have more comfortable and healthier building environments in which to grow.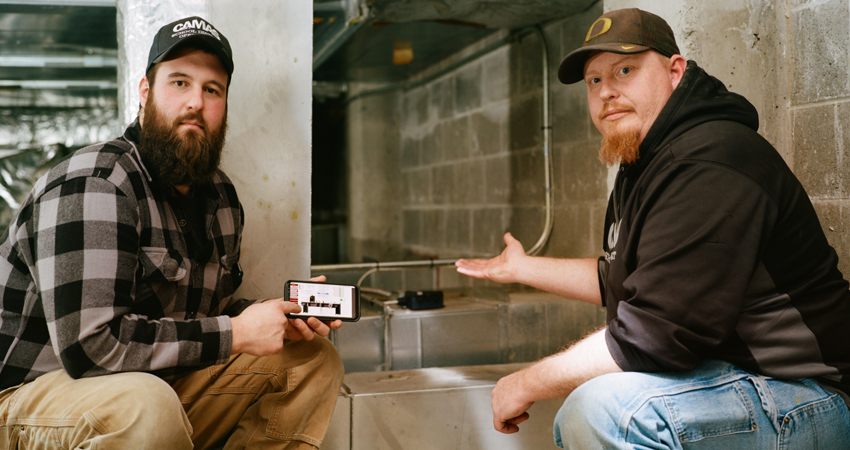 Camas School District's electrician Craig Allen, and facilities staff Robert Taylor, zero-in on a CO2 sensor—checking status via direct digital controls readout on a smartphone at Skyridge Middle School's mezzanine.
"Camas School District is fortunate in having more buildings that we classify as new versus old," said Jessica Beehner, operations administrator. "However, even in newer buildings, some equipment had been reaching the end of its life or was not energy efficient." For example, older controls systems did not allow settings to be overridden after a certain date. Making up a snow day could mean that students were in a building that wasn't programmed to be heated.
That's why Camas School District collaborated with NW Natural and Energy Trust of Oregon to make upgrades that will not only save energy and money, but also will improve the learning environment for students and staff.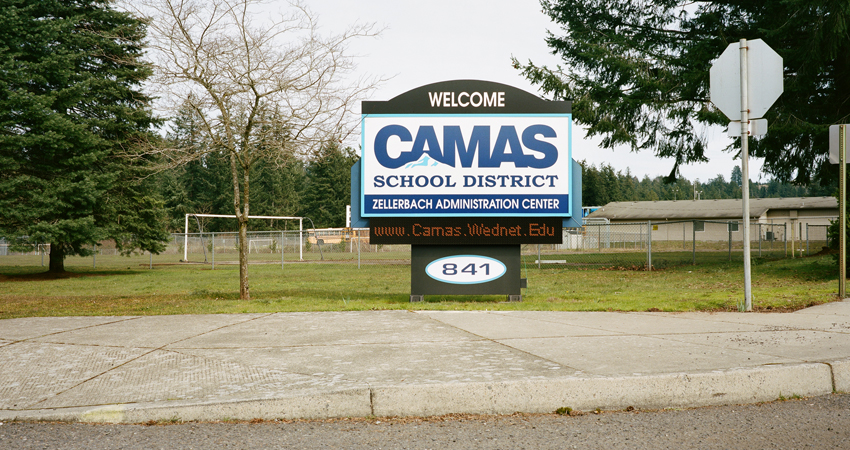 Camas School District is improving energy efficiency and comfort at its sites—thanks to support from NW Natural and Energy Trust.
The school district's upgrades were extensive and varied. At one school, custom demand control ventilation generates both HVAC efficiencies and energy savings. In addition, classroom sensors help the facilities team monitor proper levels of CO2, which is critical to keeping the air clean and occupants safe. At another school, a new natural gas-fired condensing boiler ensures a comfortable learning environment, while contributing to overall operating cost savings. New condensing tank water heaters, custom building controls and custom variable frequency drives were also among the upgrades completed at district schools.
These upgrades are already having an impact on operations and maintenance costs across the school district. The facilities staff is seeing a reduction in help tickets, particularly for HVAC hot/cold calls. But that's just the beginning.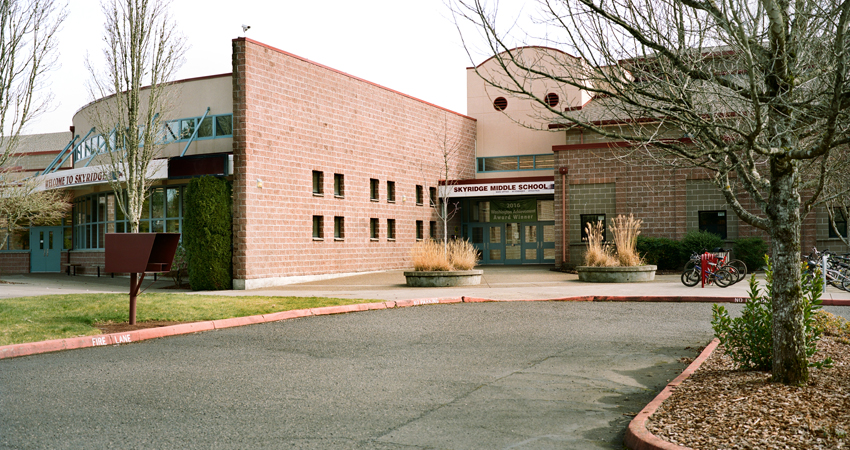 Skyridge Middle School is one of Camas School District's sites to benefit from energy-efficient equipment upgrades; including custom demand control ventilation.
Money saved through these efficiencies means more funds are available to launch additional improvement projects. Like the $165,900 in Energy Trust cash incentives that Camas School District plans to apply to new upgrades. "I've been surprised at how many improvements qualify for incentives," said Beehner. "And knowing the incentive amount during planning has helped get projects approved."
Already underway is a partial retrofit/partial new build of the historic Garver Theater, located inside an early 1900s building. This project is now in the design phase, with construction expected to launch in early 2020 and wrap up about a year later. And the district is eyeing still more improvements for schools, including the replacement of hot water heaters and other aging equipment, such as boilers.
Through its relationship with NW Natural and Energy Trust—and by investing in energy efficiency—the Camas School District can continue to help protect our environment and be better stewards of public funds.