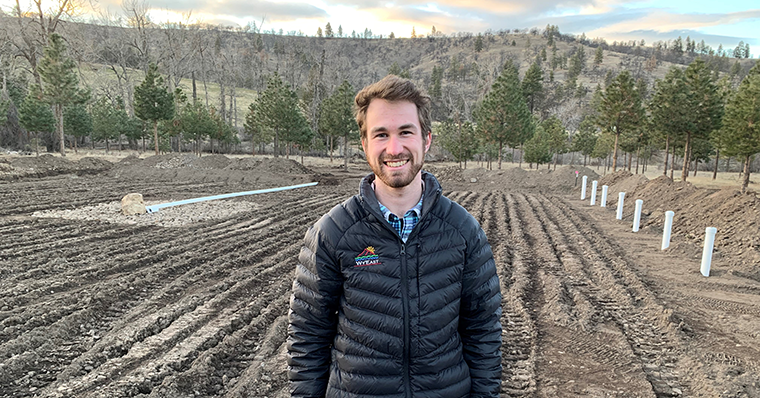 This post is part of a series featuring 2023 members of the University of Oregon's Resource Assistance for Rural Environments AmeriCorps program focused on energy.
One of the first lessons Michael Kluz learned as a RARE member working for Wy'East Resource Conservation and Development was that no two rural energy projects look alike.
"I had to take a step back from looking at an energy project as simply that – a project – to see that it was more than that. It was about telling a story… of that farmer or small business owner, why their project is important to them and how it will change their operation, even their life," he said. "Each project and each grant application are a part of the story for that small business, or farm. I get to take part in that story."
RARE stands for Resource Assistance for Rural Environments. The AmeriCorps program hosted by University of Oregon places graduate level individuals in rural communities to support economic, social and environmental development.
Energy Trust supports RARE members interested in energy through mentoring from regional outreach staff on energy efficiency and renewable energy topics, and in some cases, through financial contributions to their community sponsorships.
Kluz was one of seven RARE members supporting energy efforts in rural Oregon over the past year. At Wy'East, which is based in The Dalles, he worked with small business owners and agricultural producers applying for funding from the USDA Rural Energy for America Program to fund energy projects, helping deliver more than 560,000 kilowatt hours in renewable energy generation and securing more than $530,000 in USDA investment.
Kluz, a Wisconsin native, also helped continue to develop the Oregon Rural Energy Network, which leverages organizational collaboration in rural Oregon to provide technical assistance, funding and support for energy projects across the state. This is work Energy Trust and the Oregon Department of Energy are also supporting.
"This has been a great way to bridge different programs and build connections with interested farmers, ranchers and small business owners. Each organization can provide a level of support and funding in their sphere, but together we can stack funds to provide a significant benefit for those undertaking energy projects in rural Oregon," said Kluz.
After his RARE term ended, Kluz became a rural energy project manager at Wy'East. He plans to attend graduate school in 2024 to study environmental management and hopes to stay in the West.
"My time with RARE and Wy'East has solidified my love for the Western United States and the various communities that call these amazing landscapes home. I hope to continue working in the energy sector after earning my master's and look forward to what new and exciting opportunities arise."