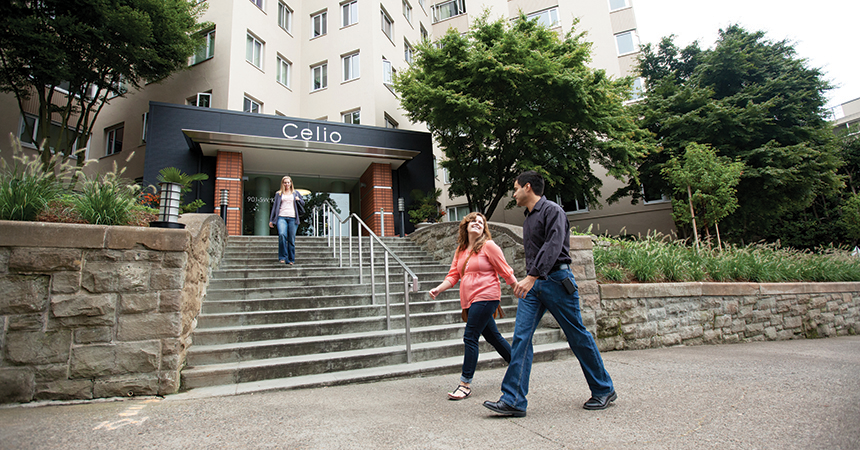 Although property owners and residents have different motivators for making energy-efficient upgrades in multifamily properties, both enjoy the benefits.
Property owners, managers and homeowner associations see savings in energy bills, reduced maintenance costs and increased property value after implementing energy-efficient improvements. Plus, energy-related upgrades increase resident livability, leading to fewer complaints and a low vacancy rate. When energy-saving upgrades are made to common-area lighting, appliances, insulation, windows, and heating and cooling systems, energy retrofits unravel a wide range of benefits for owners and residents.
Resident living was greatly improved at the downtown Portland Celio Apartments after management installed energy-efficient boilers, ENERGY STAR® qualified windows and high-efficiency commercial clothes washers. With Energy Trust's help, residents of the 12-story apartment building now live comfortably and enjoy stable temperatures year-round. Owners save nearly $22,500 in utility bills each year and have a lower turnover rate.
In 2014, Energy Trust helped upgrade nearly 2,300 multifamily properties, and installed high-performance showerheads, faucet aerators and LEDs in more than 21,000 units to help residents reduce their individual energy consumption. High-performance showerheads and aerators use up to 20 percent less water compared to standard fixtures and save water-heating energy without impacting water pressure. These upgrades provide direct savings to residents, and owners can promote the upgrades to existing and future residents. Residents are also more likely to consider long-term livability, and owners will appreciate the decrease in rental vacancy in multifamily properties.
Whether energy retrofits benefit residents, property owners, managers or homeowner associations, making the upgrades is easy. Energy Trust offers a no-cost walkthrough survey and site evaluation to assist properties in maximizing energy- and cost-savings benefits. Each property receives a customized action plan outlining top cash incentives, projected savings, estimated costs and payback timelines.