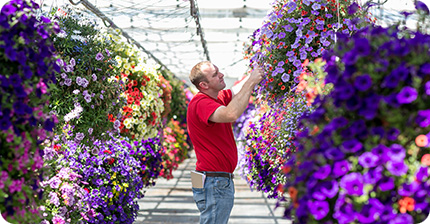 In 2009, the Oregon Association of Nurseries, OAN, made a commitment to industry-wide sustainability. The OAN Board of Directors launched a sustainability initiative, affirming that the green industry shouldn't be green only because of its products, but because of its practices as well. As part of this sustainability commitment, the OAN board established a very ambitious goal—that the Oregon nursery industry as a whole would reduce its energy use by 25 percent over the next 10 years.
The association and its growers immediately realized that they could not attain such an ambitious goal without technical and financial assistance. Energy Trust has helped the industry make significant progress by connecting growers with cash incentives to help them install energy-efficiency improvements. To publicize the available incentives, Energy Trust reaches out to OAN members through direct mailings, advertisements in Digger magazine and attendance at OAN meetings and functions.
As a result, many nurseries have taken advantage of Energy Trust services and incentives—improving irrigation systems, upgrading greenhouse heating systems and making greenhouses more energy efficient. By installing better greenhouse insulation or putting in thermal curtains, these growers are now seeing the benefits of using less energy.
Energy costs for greenhouses can be a significant piece of operating expenses, and it makes sense to invest in energy-efficient greenhouse and nursery equipment. A heated greenhouse can save 30 percent in natural gas by reglazing alone. Irrigation upgrades can save 10-35 percent in electricity and also save water.
As a result of improvements, energy projects completed at Oregon nurseries have saved $500,000 per year since 2009, according to OAN. That is sustainable not just from an environmental perspective, but a financial one as well.
Article by Curt Kipp, senior publications manager, Oregon Association of Nurseries