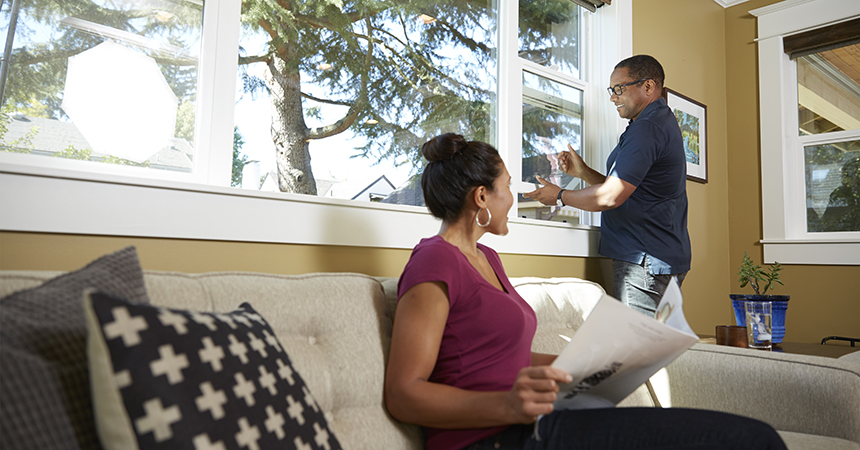 In celebration of Earth Day today, it's the perfect opportunity to share some of the most commonly-asked questions we receive from customers about how to make their homes more energy efficient.
In addition, all day long today we'll feature FAQs on our using the hashtag #AskEnergyTrust. Don't see your question included in our posts today? Check out our full FAQ page for a broader list. https://www.energytrust.org/faqs/
Happy Earth Day, today and every day.
Q: What should I insulate first in my home to get the most out of my money?
If you have little or no insulation in your attic, that's the first place to start. You'll experience the biggest energy savings from having a well-sealed and insulated attic.
Of the areas you could insulate—attic, wall and floor—the attic is the easiest and most accessible place to start and you can greatly improve your home's comfort. Be sure to seal any air leaks before you install that insulation to get the most out of your upgrade, and ensure ventilation is properly in place for kitchen and bath fans or any equipment that needs to vent to the outdoors. Another consideration for attic insulation is your roof. If you're already planning to get roof work done, couple that with an attic insulation upgrade.
Q: What kind of insulation would you recommend I put in the different areas of my home?
In your attic/ceiling, use blown-in cellulose or fiberglass product if you have room. Spray foam makes better sense for small/tight attic spaces, and if you have knee walls, insulate those with batt insulation.
Within the walls of your home, blown-in cellulose or fiberglass product is best. For floors, you should use batt insulation, so long as the batt is tightly fit to the floor.
Q: What kind of windows are the most efficient?
The efficiency of a window is determined by the type of glass used, the components of the frame and the glazing used—a feature that prevents heat loss and gain depending upon the season. If you have single-pane windows in your home, it may be a good idea to replace those with ENERGY STAR® double- or triple-pane windows.
For operable windows that you can open and close, the opening mechanism has very little impact on overall efficiency, so homeowners can choose the style that works best for them, whether that is a double-hung window, casement or slider.
Q: What are the best types of windows to buy?
Energy Trust offers incentives for two tiers of ENERGY STAR certified windows (U-factor of 0.28 – 0.30 and 0.27 or below). The lower the U-factor number, the more efficient the window. Efficient windows can be made from different materials like vinyl, wood or fiberglass. It's important to know that not all the windows in a house will have the same U-factor, so you may purchase windows that qualify for different incentive levels depending on the efficiency rating.
New windows have a lot of other benefits in addition to energy savings such as improved aesthetics, functional improvements to opening or closing the window that support household ventilation, better indoor air quality and reduced condensation. All of these factors are at play when making the decision to install new windows, so Energy Trust recommends talking with a contractor who can help you choose the right option for your home.
Q: What type of water heater is the most efficient?
To ensure the simplest replacement, upgrade to the most efficient water heater based on the fuel used for your existing model
If you currently have an electric resistance tank water heater, the most efficient upgrade is to a heat pump water heater. You'll see water heating costs go down by as much as 50 percent with an upgrade from an old electric tank water heater to a heat pump water heater. However, there are some installation requirements for heat pump water heaters that are important to keep in mind. These models are best suited to be placed in a garage or unfinished basement setting because they emit cool air and some noise. If your current electric water heater is in a small closet or bathroom, there are options to install a heat pump water heater that vents the cool air to the outside, but you should talk with a contractor before purchasing any new equipment.
If you have an old gas tank water heater, you can save energy by upgrading to an ENERGY STAR certified gas tank water heater or gas tankless unit. Gas tankless units use significantly less gas to heat water than a standard gas tank, but they are a relatively expensive technology and there are additional installation requirements. Tankless is a good option if you have large numbers of people living in a home or if you're planning to significantly remodel a home and you're changing plumbing as part of that process. Talk with a contractor about the right fit for your home.
Q: What are reputable brands of ductless heat pumps?
Daikin and Mitsubishi are among the leading manufacturers of ductless heat pumps installed in the U.S. and together, they comprise most installations that qualify for Energy Trust incentives. However, any brand and model that meets Energy Trust requirements may qualify for incentives when installed in an electrically heated home.