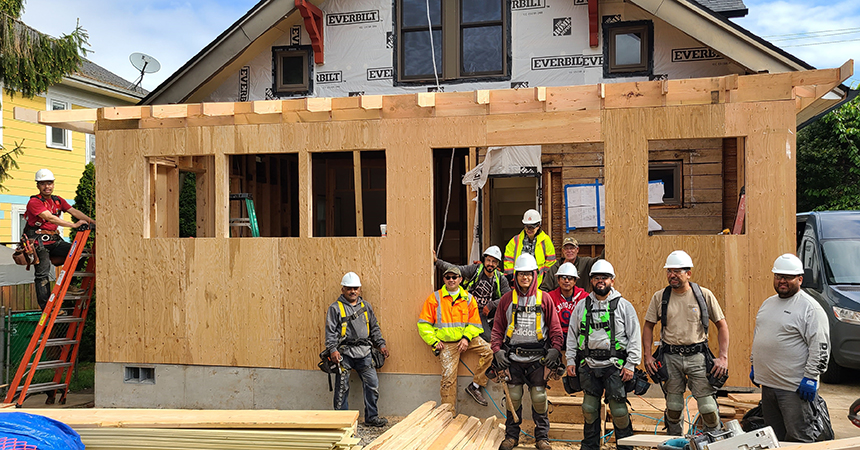 Interns participate in on-the-job training with Home Energy Life Performance (H.E.L.P.) Group. Photo courtesy of Earth Advantage 
As interest in clean energy projects grows, so does the need for skilled tradespeople to do the work. That is especially true as Oregon seeks to significantly reduce greenhouse gas emissions and as customers look to benefit from new funding for clean energy projects from the Inflation Reduction Act and other sources.
Now, Earth Advantage and EnerCity Collaborative, with support from Energy Trust, have launched Oregon Residential Construction Career Hub, an online job board and educational resource that connects workers eager to enter the energy-efficiency industry with employers statewide.
Employers – mostly Energy Trust trade allies and other Energy Trust partners – can post open positions to the job board at no cost and get involved with workforce development initiatives. For those looking for work, the Hub is an easy way to search and apply for residential construction jobs, explore available career paths, and access training and credential programs.
According to Earth Advantage, most workers accessing the Hub are individuals from low-income and/or diverse backgrounds who have undergone workforce training through Earth Advantage and another pre-apprenticeship or youth-based program. A typical pathway for a trainee is to take Earth Advantage's two-day Residential Green Construction training, receive one-on-one mentorship, complete the Sustainable Home Professional (SHP) training, and connect with a professional in the field before applying for jobs through the Hub.
Energy Trust supports SHP and other training programs through sponsorships and collaboration with Earth Advantage on curriculum development and energy-efficiency content.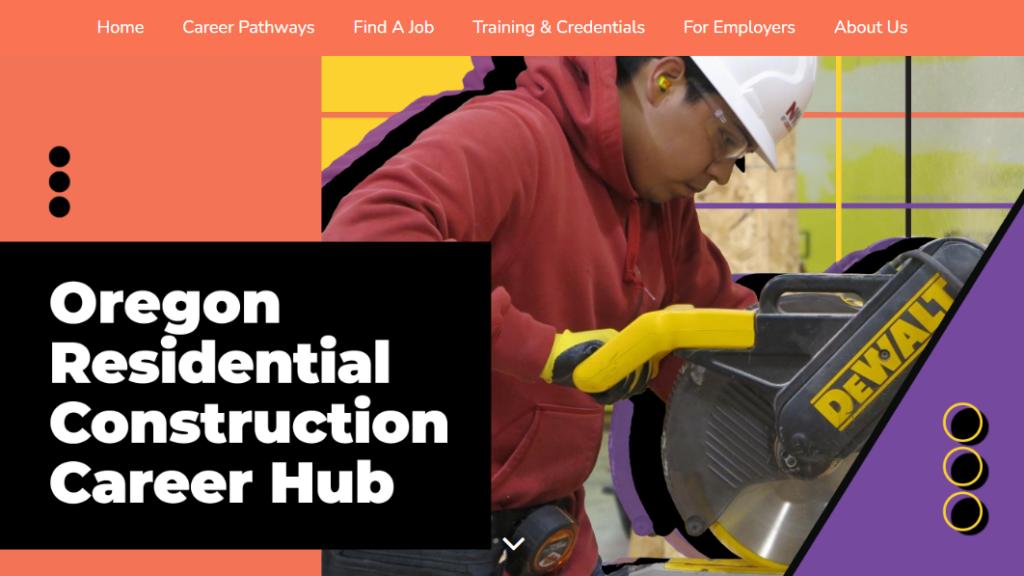 Promoting the Hub is also a priority for Energy Trust.
"We see this as an important tool for connecting individuals who have undergone Energy Trust-supported workforce development training to construction and energy efficiency jobs," said Scott Leonard, Energy Trust residential program manager. "The Hub also demonstrates to people considering workforce training the breadth of opportunities available once they acquire foundational skills."
Beyond helping fill immediate job openings, the Hub also educates trainees on options available to them in four main residential sectors: new construction, home retrofit, HVAC and energy scoring. Through resources available on the website, those interested in entering the green construction workforce have access to salary information, advancement opportunities and ongoing training and certifications.
Earth Advantage also plans to highlight trainee success stories on the site.
As the region grapples with a continued labor shortage of skilled contractors and tradespeople, workforce development will be critical to achieving more energy savings and reducing emissions. Investments like this are one way Energy Trust is helping build a pipeline of qualified contractors, home energy auditors, tradespeople, designers, architects and other field staff to help more customers access clean energy.