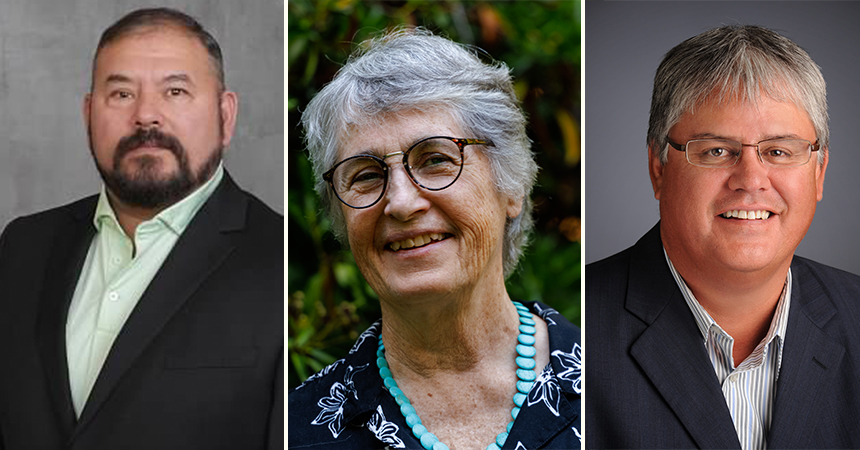 Energy Trust welcomed three new members to its board of directors in May: Jane Peters, Ellsworth Lang and Bill Tovey filled positions previously held by Elee Jen, Erik Andersen and Ernesto Fonseca, who all stepped down in February.  
Lang was born and raised in Chiloquin and is an enrolled member of the Klamath Tribes. He serves on the Klamath Tribes Tribal Council, the Klamath County Chamber of Commerce Board of Directors and the Discover Klamath Board of Directors. 
Lang previously worked at the JELD-WEN Communities Resorts Division for 15 years. He has a passion for economic and business development, diversity, equity and inclusion, and has been driving the adoption of inclusive business practices throughout his career.  
"I am very pleased to be working with Energy Trust of Oregon to help bring tribal perspectives at a state level. Being a part of a sustainable future and bringing equity to Oregon is exciting," said Lang. 
Peters, of Portland, is an environmental psychologist who is well known for her work conducting process evaluation and market research for utilities, energy agencies and nonprofits. Her career focused on including the voices of all market actors.    
"I am excited to be joining the Energy Trust Board of Directors at this critical time when we need to reduce our energy use across the state," said Peters. "I want to ensure that Energy Trust continues to provide value to all Oregonians with solutions that reduce our effect on the environment."
Tovey, of Pendleton, has worked for the Confederated Tribes of the Umatilla Indian Reservation for over 30 years, helping develop and open the Wildhorse Casino and Resort, the Coyote Business Park, the Yellowhawk Tribal Health Center and the Nixyáawii Education Center.  
For the past three years, he has worked on tribal housing needs and facilitated the production of rental housing units and lots for home ownership. Currently, Tovey oversees the Confederated Tribe of the Umatilla Indian Reservation's land acquisition program and is working on reservation broadband services as well as securing funding for net-zero solutions like wind and solar energy.  
"I'm thrilled to join the Energy Trust Board of Directors to help strengthen Energy Trust's outreach efforts to increase energy efficiency for Oregon Tribes and Eastern Oregon communities," said Tovey.  
Energy Trust's volunteer board provides strategic direction and organizational policies. Its insights guide programs that help Oregonians and businesses access clean, affordable and equitable energy, save energy and lower costs, and generate renewable energy.