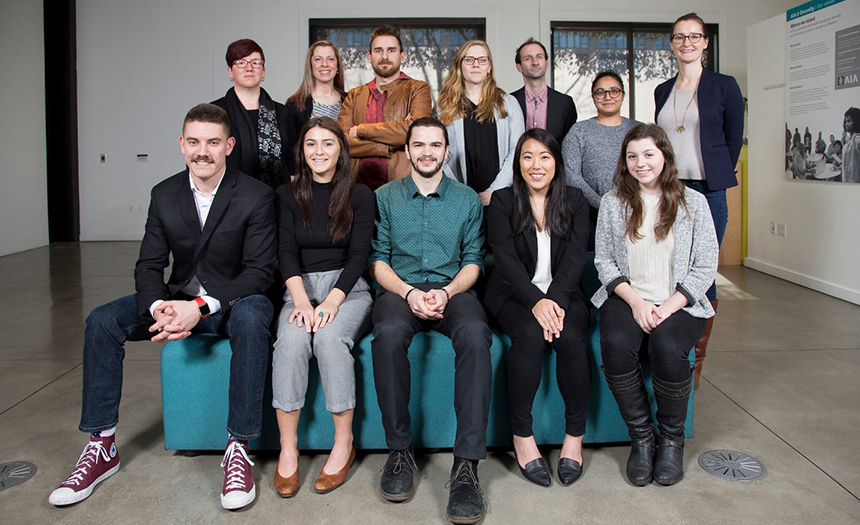 First row: Austin Daich, Jessica Meylor, Matt Loudermilk, Lindsey Naganuma, Madelaine Murray
Second row: Erin Fox, Amy Scheckla-Cox, Zaq Dohallow, Julia Mollner, Philip Speranza, Dristi Manandhar, Ashley Nored
During Design Week Portland, five next generation architects had the opportunity to demonstrate the importance of net-zero building design for our state's future.
This year's event included panel presentations by students from Energy Trust of Oregon's Net Zero Emerging Leaders internship grant, who shared insights from their 12-week internships at various Oregon architectural firms.
The event featured Matt Loudermilk from Carleton Hart Architecture, Madelaine Murray from Hennebery Eddy, Lindsey Naganuma from Holst Architecture, Jessica Meylor from OTAK, and Austin Daich from Speranza Architecture + Urban Design. Each Emerging Leader is pursuing a degree in architecture and shares a passion for sustainable design practices.
The presentations focused on how each student supported their firm's AIA 2030 Commitment, an industry-wide pledge to transform architectural standards toward net-zero energy buildings. By prioritizing energy performance through holistic, data-driven practices, the industry aims to make all commercial new construction carbon neutral by 2030.
Discussion topics included how data tracking influences the building design process, the importance of dedicating resources for data reporting and sustainability, and how industry collaboration is vital to achieving the 2030 net-zero goal.
The panelists also described how creating meaningful feedback loops in AIA's Design Data Exchange (DDx) can lead to better, data-driven decisions.
"Our involvement in the Net Zero Emerging Leaders internship program has amplified Otak's trajectory toward meeting the AIA 2030 Commitment and streamlined our DDx reporting process," said mentors Zaq Dohallow and Amy Scheckla-Cox. "With the help of our intern, we have been able to intensify our team's abilities for improving project performance as well as augment our design process to include technical analysis promoting a stronger integrated design approach."
Thanks to the students' efforts, participating firms were able to see how their projects compare to the nationwide average in DDx—and discovered first-hand how holistic design decisions can create more opportunities to connect and collaborate.
To learn about the upcoming 2020 Net Zero Emerging Leaders Internship and to apply for the chance to be one of the architecture or engineering firms selected, visit energytrust.org/netzerogrants.