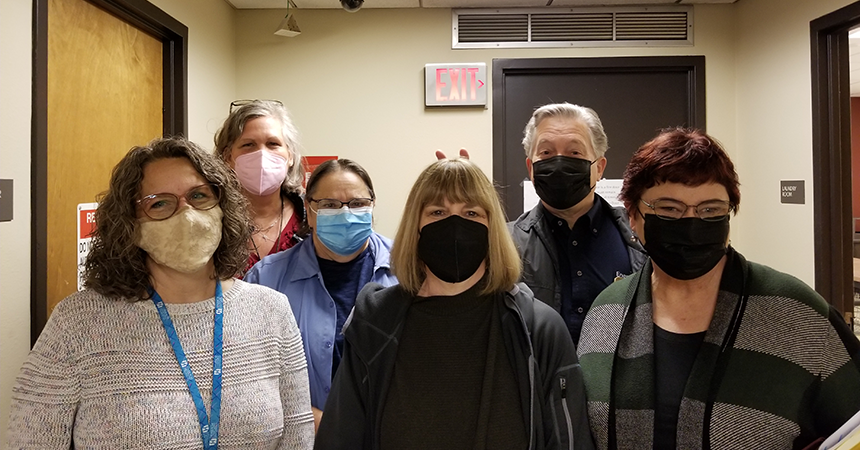 Schnitzer Properties energy team and coaches during a Treasure Hunt to identify on-site savings opportunities
In spring 2023, three affordable housing providers came together to celebrate their accomplishments in the first year of Energy Trust of Oregon's Multifamily Strategic Energy Management (MFSEM) offering. The virtual gathering hosted by Energy Trust gave members of each participating organization the opportunity to share their progress towards embedding energy management into their daily operations. Through the offering, participants discovered how to educate their residents on energy use as well as new ways to save energy in their buildings. Participants' collective efforts earned them a total of $80,000 in cash incentives and saved over 100,000 kWh of electricity across their enrolled properties.
The three organizations collectively engaged over 200 residents through 21 in-person energy conservation workshops led by program partner Community Energy Project (CEP). CEP workshops were hosted at participating properties and demonstrated a variety of ways residents can take charge of their energy and water use while staying comfortable and healthy in their homes. Residents who attended workshops were provided with free box fans in the summer and weatherization supplies in the winter.
"We appreciated participating in the CEP workshops for our residents. Our residents enjoyed the classes and learned methods of staying comfortable with less energy use," said Deborah Theisen, Housing and Urban Development (HUD) support office manager at Schnitzer Properties. Schnitzer coordinated with CEP to offer multiple workshops in Farsi and Mandarin to reach residents more comfortable communicating in their native languages. NeighborWorks Umpqua did the same to offer a workshop in Spanish to several of their residents.
Property staff also shared tips for conserving energy with residents in the form of monthly newsletters, door hangers, posters and staffed tables in common areas.
With the guidance of energy coaches, property staff conducted assessments of their buildings in search of ways to reduce energy use. In hosting these "Treasure Hunts," first-year participants identified over 200 energy-saving ideas, from regular cleaning of dryer vents to seasonal adjustments in outdoor lighting timers to align with daylight hours. Two properties were inspired to take a closer look at their unit turnover checklists, adding multiple items that reduce energy waste and increase unit comfort for the next resident.
Theisen shared that her organization "had always been committed to energy savings but found most opportunities too expensive to pursue." MFSEM enrollment illuminated new opportunities and gave Schnitzer the ability to tackle projects that were already on their wish list. "Through the program, we learned about additional places where we would be able to lower our energy consumption. Working with Energy Trust to make energy upgrades that we didn't have to pay for ahead of time – like the LED lighting upgrades – that was fantastic," Theisen added.
In addition to savings and incentives, participants saw positive change in their organization's culture as a result of enrolling in MFSEM. For NeighborWorks Umpqua, the offering connected staff from departments that had previously not worked together. "Multifamily SEM got our whole organization involved in thinking about our energy usage across our entire portfolio and brought together a broad group to work creatively together," said Albion Spahn, design & construction project manager of NeighborWorks Umpqua in Roseburg. Spahn added that these connections fostered a new level of mutual respect and appreciation among NeighborWorks staff, inspiring the organization to address energy use across their five enrolled properties. All three housing providers re-enrolled in the MFSEM offering, ready for another year of learning and saving.
MFSEM partners housing providers with Energy Trust's technical expertise to evaluate their energy use and pursue low- and no-cost ways to improve the efficiency of their buildings. Participating organizations receive cash incentives for engaging residents and staff in ways that promote long-term savings.
Learn more about how you can save energy at your multifamily property with support from Energy Trust at www.energytrust.org.