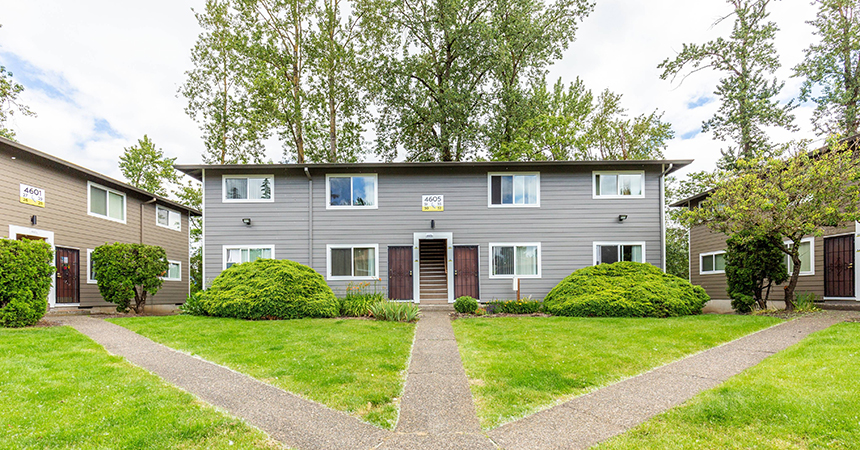 Image provided by Northwest Rents
Windows that don't seal properly can be a nuisance for renters, especially when heat waves and cold snaps roll in. Drafts and air leaks allow air to escape, making it harder to maintain a comfortable home. Not only are drafts bothersome from a temperature regulation standpoint, but they also force heating and cooling units to work harder—driving up energy costs.
When Northwest Rents purchased the Brookside at Johnson Creek apartment complex in 2021, the new owners received feedback from tenants about the current state of their windows. "We were hearing from a number of residents that they were having a difficult time keeping their homes either cool or warm because of weak window seals and drafts," said Cheryl Dalton, one of Northwest Rents' investors.
The exterior of the apartments had mostly remained the same since the Brookside was built in the 1970s. After Northwest Rents bought the property, they knew it was due for a significant makeover. "The buildings still had its original single-pane windows and aluminum siding, both of which aren't very energy efficient." Dalton said. "But ultimately the decision to replace the windows was because of what we were hearing from our residents. We had to pursue this project for them."
Purchasing energy-efficient windows was a smart choice for multiple reasons. Newer models prevent excessive heat transfer so less heat escapes naturally through windowpanes. Modern windows also seal tighter, which supports a more consistent indoor temperature. By reducing the prevalence of drafts, less energy is required to heat and cool the apartments—which in turn lowers utility bills.
Alongside saving money and decreasing Brookside's environmental footprint, Dalton was also pleased with how the project improved the apartment's appearance. "The new windows are just beautiful," Dalton said. "I hope that by our investing in the property, residents feel a bit more pride about where they live."
In total, 388 single-pane windows were replaced with modern, energy-efficient models. The owners of Brookside at Johnson Creek Apartments were eligible for over $15,000 in incentives to help cover the cost of the window upgrade. The amount of energy the new windows save will result in an estimated $1,300 reduction in annual utility costs across the entire apartment complex.
While she is thrilled by the savings, Dalton believes that she has a personal responsibility to do whatever she can to use less energy. "If you're in a position to make a positive difference in the world, you must act on it," she said. "It's so very important to me that we do something to help. It's not all about the bottom line."
Northwest Rents and Dalton aren't finished with energy-efficient upgrades yet. "This is just a first step. We hope to continue working with organizations like Energy Trust to help us whittle away one project at a time."
Make purchasing new windows for your multifamily property easier on the bottom line by taking advantage of Energy Trust incentives. Learn more about window incentives by visiting the multifamily cash incentives page.