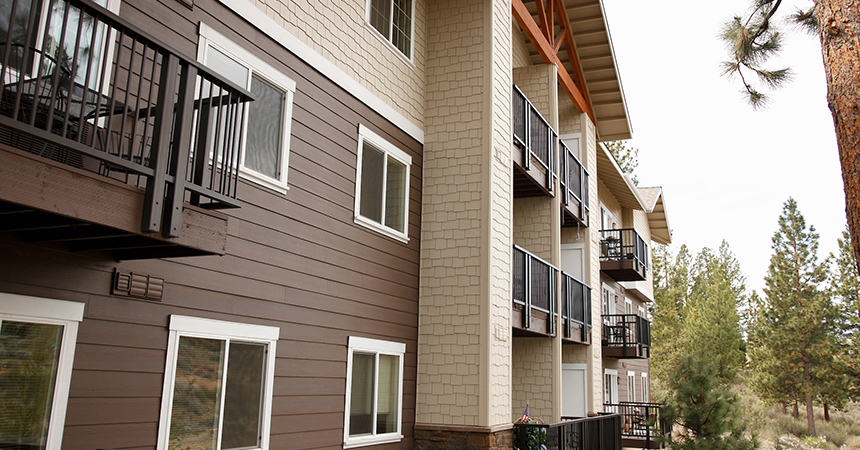 Affordable multifamily housing property in Bend, Oregon.
Energy Trust of Oregon launched the Multifamily Strategic Energy Management (SEM) offer after seeing how commercial SEM customers benefited from this approach to energy savings. The first cohort kicked off in April 2022 with three housing providers representing 12 affordable housing properties located in the Portland metro area and Southern Oregon.
The Multifamily SEM offering encourages participants to collaborate and help each other be more intentional about energy use. By sharing their unique strategies and the results of their efforts, participants can better identify opportunities to save energy.
Multifamily SEM helps property owners, managers and tenants produce immediate and ongoing energy savings through a five-step process:
Build an internal energy team: Energy performance experts (energy coaches) get to know property and maintenance staff and teach them how to identify energy waste and areas for operational improvements.
Make a plan: Participants create an energy team who works with energy coaches to establish a customized energy plan based on how they currently use energy.
Engage residents: Residents gain access to educational materials, workshops, gift cards and giveaways to encourage energy-saving behaviors in their individual units and in common areas.
Monitor progress: Participants and energy coaches track energy performance and share progress with residents and staff.
Repeat: Participants evaluate and refine their plan to reach maximum energy savings.
Deborah Theisen and team wanted help to manage energy use at their 162-unit property in downtown Portland but struggled to find a program that was a good fit. All of the agencies and organizations Theisen reached out to require the property to make sizable investments before getting money back. "Funds are tight," she said. "Even though we knew we'd get reimbursed, we couldn't afford to put so much money up."
When Theisen found out about Energy Trust's Multifamily SEM offering, she knew her search was over. "Receiving incentive money without having to buy anything was a game changer," she said.
A core focus of Multifamily SEM is teaching participants how to recognize opportunities to improve both operations and comfort. The guidance Theisen and her team received from energy coaches helped them put together an energy plan with residents and staff that resulted in reduced utility costs. The collective impact property owners, managers and residents can make by implementing energy-management best practices adds up. "We have a strong team at our property and are spreading the work out amongst ourselves," said Theisen.
Participating energy teams report that the program's educational approach has been successful in teaching residents how to do reduce energy use in their homes. On-site "treasure hunts," an activity for energy teams and their coaches to look for additional energy-saving opportunities at their property, help staff become more aware of how energy is wasted and what can be done to stop it.
For example, one energy coach led in-person workshops at five apartment buildings in Roseburg in August 2022. On-site maintenance personnel at these properties got firsthand experience identifying energy waste by participating in the treasure hunts. During a walk-through at one property, participants discovered the thermostats in common areas had an unused scheduling feature that automatically turns the HVAC system off when residents are not present, like late at night. Because the heating and cooling equipment would no longer be operating at full strength 24/7, the property is now using energy much more efficiently.
The resources, tools and framework of Multifamily SEM make saving energy much more accessible to affordable housing providers. Interested in reducing operational costs at your property? Email energymanagement@energytrust.org to learn how you can get started.