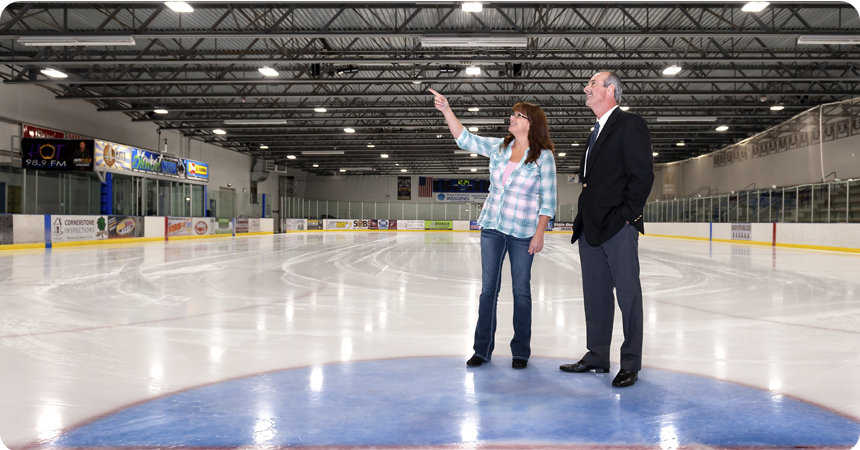 Located in Medford, The RRRink serves hundreds of hockey and skate fans each month. Between hockey leagues, Southern Oregon Figure Skating Club and learn-to-skate programs, the area's only indoor ice arena is open long hours, which has a significant impact on its monthly power bill. A recent investment in new lighting throughout the 37,500-square-foot building has improved the building's energy and cost savings, and enhanced visibility for skaters on the ice.
According to Ellen Eggleston, manager, the skating rink's owners were concerned about its rising energy costs and turned to Energy Trust of Oregon for assistance. A site evaluation and study confirmed that the arena could save energy by upgrading its lighting and installing new compressor controls on equipment used to freeze the ice.
The RRRink replaced its older metal halide fixtures with newer LED technology, which was selected for its quick start, long-life, energy savings and cool operating temperature. "We spend a lot of time and money trying to keep things cold in here, so we don't want to add a technology that will warm things up," she explained.
"The new lighting is so clear and bright," said Eggleston. "The difference is amazing; we didn't realize how bad our old system was until the new lights were installed. Our customers are very pleased with the transformation."
Energy Trust provided cash incentives of $29,586 toward the overall cost of the site evaluation, the study and the new lighting and compressor controls. Together, the energy-saving improvements are expected to save 195,500 kilowatt hours of electricity annually and keep the arena's energy costs in check.
"We are always happy to help a Pacific Power customer become more energy efficient," said Monte Mendenhall, regional community manager, Pacific Power. "Working in close partnership with Energy Trust we are able to direct our customers to incentives that make their efficiency investments pay off sooner. We want to congratulate The RRRink on a great project that shines a bright and energy-efficient light on its business."
"For a small business like ours, we wouldn't have been able to make this investment without Energy Trust," explained Eggleston. "We knew the improvements were important but the incentives helped make it a more affordable decision."