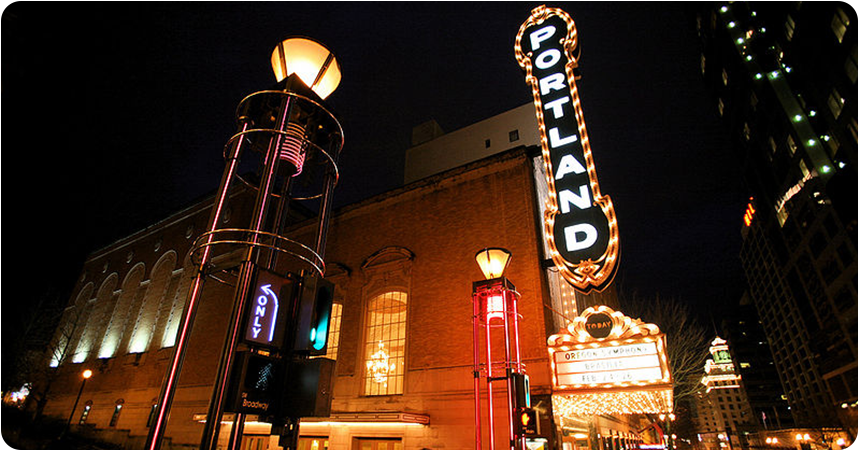 Portland'5 Centers for the Arts is giving LEDs top billing at Portland's landmark Arlene Schnitzer Concert Hall and its three other theaters, Newmark, Brunish and Winningstad.
The arts center replaced more than 7,600 light bulbs with LEDs outside the four theaters, including on both entrances of the Schnitzer Concert Hall and its iconic Portland marquee. Long-lasting, energy-efficient two-watt LED bulbs come with a life expectancy of 50,000 hours—that's more than five years of 24-hour-a-day use.
Upgrading to LEDs improves the quality of light in the arts facilities, and reduces maintenance and repair costs. The arts center received cash incentives of over $46,500 from Energy Trust, and expects to save 186,000 kilowatt hours of electricity and more than $18,000 per year on its utility bill.
P.S. In good company, Portland's theaters join other west coast icons in adopting energy-efficient lighting, from Seattle's historic Paramount Theatre to Portland's newest Tilikum Crossing bridge.
Photo Credit:Cacophony (Own work) [GFDL (http://www.gnu.org/copyleft/fdl.html), CC-BY-SA-3.0 (http://creativecommons.org/licenses/by-sa/3.0/) or CC BY 2.5 (http://creativecommons.org/licenses/by/2.5)], via Wikimedia Commons