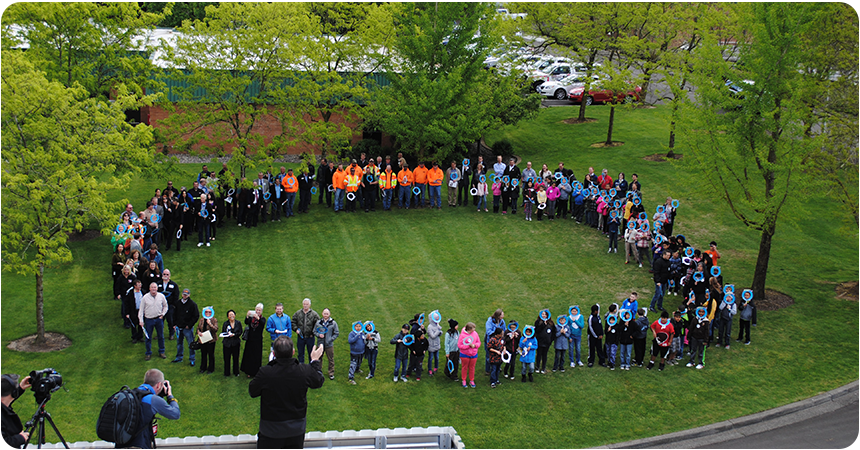 On Earth Day 2015, the City of Gresham Wastewater Treatment Plant celebrated an exciting milestone: becoming the first water resource recovery facility in the Pacific Northwest to achieve net-zero energy consumption.
The award-winning plant achieved net-zero status through more than 10 years of energy reduction and generation investments, including two, 395-kilowatt co-generation engines fueled by biogas produced from the anaerobic digestion of wastewater solids, a 420-kilowatt ground mount solar electric system, and increased production of biogas from the co-digestion of fats, oils and grease received from area restaurants and food processers. The facility rounded out its net-zero efforts with multiple energy-efficiency investments.
Gresham elected officials, community leaders and fourth-graders from Wilkes Elementary School studying energy in the Reynolds School District attended the Earth Day celebration of the plant's net-zero status. Debbie Kitchin, chair of the Energy Trust Board of Directors, presented Gresham Mayor Shane Bemis and Energy Champion Alan Johnston with a check for $1.3 million in incentives for these renewable energy and energy-efficiency investments, and remarked that Gresham's achievements are a model for how wastewater treatment plants in Oregon and across the nation can control costs and achieve clean energy goals.
"Energy improvements are far better for the environment but also better for the bottom line," said Mayor Bemis. "This makes government services a little more affordable for households. It's all the right shades of green."
By adopting these clean energy technologies, and making the plant more energy efficient, Gresham is estimated to save $500,000 a year in electricy costs. The plant also makes money, bringing in around $250,000 a year in fees for accepting fats, oils and grease from regional food establishments.
Read these success stories to learn how anaerobic digestion can create energy from waste for a variety of projects in Oregon.