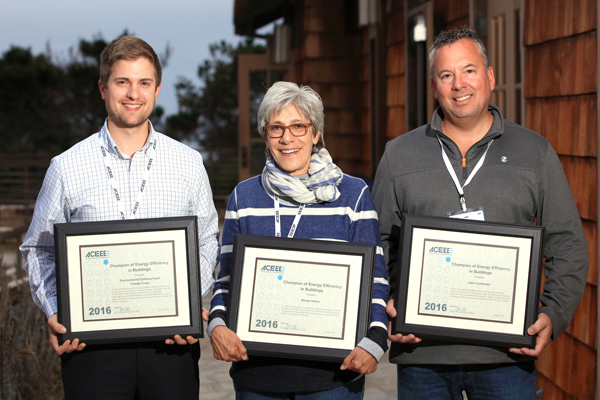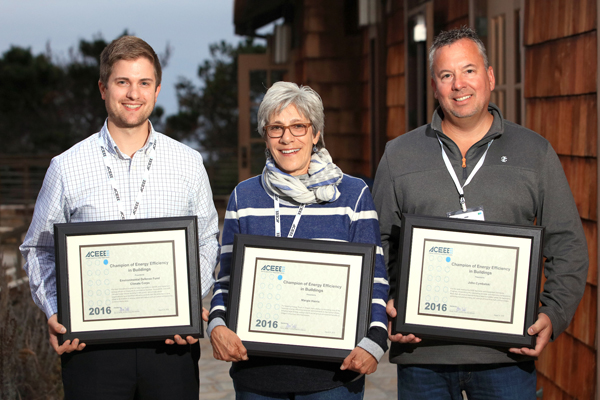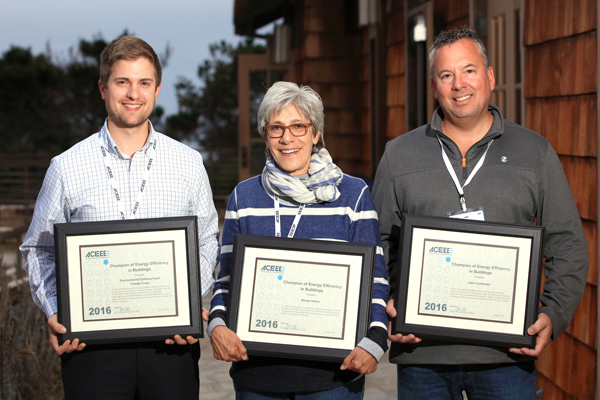 The awardees were Scott Wood, Environmental Defense Fund Climate Corps, Margie Harris, Energy Trust of Oregon, and John Cymbalsky, US Department of Energy (left to right).
This summer, the American Council for an Energy-Efficient Economy named Margie Harris, Energy Trust's founding executive director, the 2016 Champion of Energy Efficiency in Buildings for outstanding achievement and leadership in the energy efficiency field. Harris accepted the award during the ACEEE Summer Study on Energy Efficiency in Buildings in Pacific Grove, California.
"Energy Trust is a great example for states looking to achieve high levels of energy savings, and Margie is a key contributor to that well-earned reputation. Through her tenure, Margie and her team have demonstrated the value of continuous improvement, collaboration and accountability in delivering significant benefits to Oregonians," said Steve Nadel, executive director, ACEEE. "Margie is a part of the Northwest's impressive clean energy culture and we are pleased to present her with this award."
"Oregon is perennially in ACEEE's top five rankings for energy efficiency, and Energy Trust is one of the major reasons why," said Debbie Kitchin, president of the board of directors, Energy Trust. "As a result of Margie's innovative leadership, Energy Trust has created thousands of jobs and helped Oregonians save $2.3 billion on their energy bills. This award is a fitting tribute to her long-standing commitment to create lasting benefits for people, businesses and communities across Oregon."
Other 2016 Champion of Energy Efficiency in Buildings award winners included Environmental Defense Fund Climate Corps for its innovative program to help organizations identify and implement energy efficiency measures in commercial facilities, and John Cymbalski for his work leading the U.S. Department of Energy Appliance and Equipment Standards Program.