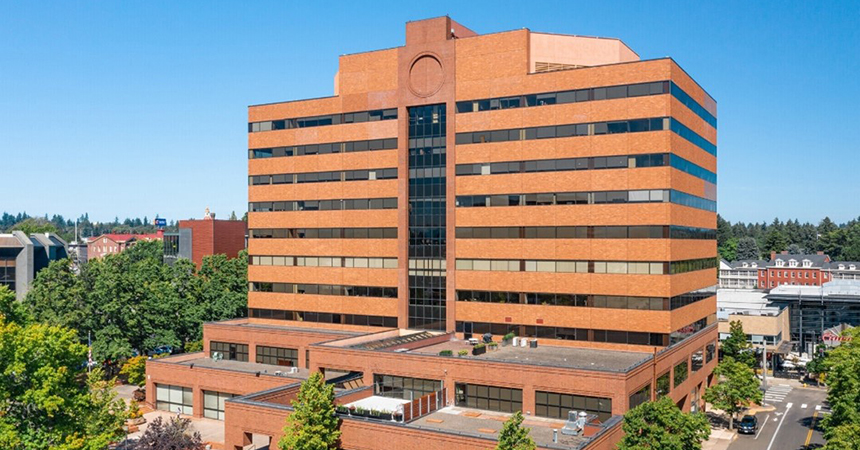 Mark Schlesinger is a partner and senior property manager at Schlesinger Companies, a multi-generational, family business that owns and manages over one million square feet of office, retail, industrial and multifamily residential space.  He has been involved with the fourth-generation family business for over 40 years and helped open the company's 805 Broadway Building—an office tower and retail space in downtown Vancouver, Washington.
Schlesinger says that when the company constructed the building back in 1983, they installed energy-efficient heating and cooling for the time. But as the equipment aged, repairs and energy costs became increasingly expensive. "The original chillers used a refrigerant that is bad for the environment and isn't manufactured anymore," Schlesinger said. "So, finding [the refrigerant] when we developed a leak—and we did develop leaks—was hard. The cost of repairing leaks and recharging those units became astronomical."
Eventually the entire heating and cooling system needed an upgrade, including new chillers as well as a new boiler and cooling tower. But the project's upfront costs were intimidating. That's when Mark contacted Energy Trust of Oregon.
With the help of Energy Trust and NW Natural, Schlesinger Companies installed a new, more energy-efficient heating and cooling system. They received $75,000 in cash incentives for  chillers and a cooling tower and $21,000 for a new natural gas boiler—making the out-of-pocket cost much lower. The new equipment will save the company an estimated $52,700 a year in energy costs.
"The new boiler that was installed is about a third of the size of the one we craned out and certainly we're seeing savings in our cost of energy," Schlesinger said. "We now have a boiler that is more constant. It's helping us provide more even comfort for all our tenants."
Schlesinger says that energy efficiency sits at the core of their family business and that the new natural gas boiler is helping them achieve their larger green building goals. For example, it helped improve the building's Leadership in Energy and Environmental Design (LEED) rating. LEED is a widely used green building rating system established by the U.S. Green Building Council. Five years ago, Schlesinger Companies was awarded LEED certification for the 805 Broadway Building. After installing the new boiler, the company resubmitted the LEED paperwork and their certification went up two levels.
"The designation improved to LEED Gold," Schlesinger said. He thinks this will help his property stay competitive to potential tenants who increasingly value reduced energy costs and sustainability.
Learn more about how your property management company can reduce energy costs and improve your bottom line with help from Energy Trust and NW Natural. For more information, visit www.energytrust.org/existingbuildings or email existingbuildings@energytrust.org