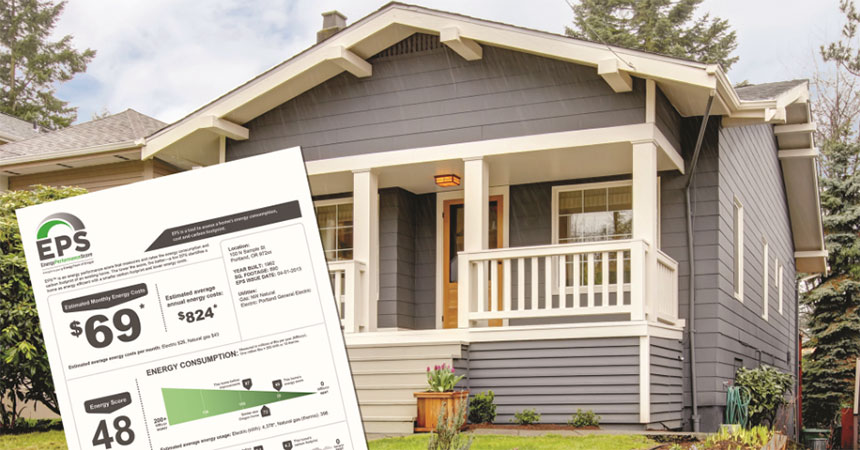 A  prevalent feature on new homes tours throughout Oregon is Energy Trust's EPS. EPS is an energy performance score that makes it easy for home buyers to see and compare the operating costs, energy use and environmental impact of newly constructed homes. EPS is also available for homeowners looking to learn about the energy efficiency of and identify potential upgrades to their current homes. With the home tours, EPS is easy to find and easy to use. A home's EPS can range from zero to more than 200. The lower the score, the better, because a low EPS identifies a home as energy efficient with a smaller carbon footprint and lower energy costs compared to similar-size homes in Oregon.
Keep an eye out for EPS at a home tour near you, such as the Central Oregon Builders Association Tour of Homes in July, the Cascadia Green Building Council Green and Solar Tour in October and the American Institute of Architects Portland Homes Tour in October.
Here are five reasons why EPS-rated homes stand out:
1 . EPS allows home buyers to review a home's energy score and estimated utility costs so they know what to expect before purchasing a home.
2. Homes with a low EPS boast features like energy-efficient heating, cooling and ventilation, windows, appliances, lighting and water heating, as well as sealed duct systems, improved insulation and solar electric systems.
3. Thorough testing ensures that important behind-the-walls details like insulation and duct sealing were properly installed and completed.
4. Newly built EPS-rated homes are more energy efficient than homes built to code, which sets buyers up for greater comfort and lower energy costs.
5. Energy-efficient homes help keep families cool in the summer and warm in the winter, all while using less energy and saving money.
To learn more about EPS, talk to your real estate professional or builder, or visit www.energytrust.org/eps.