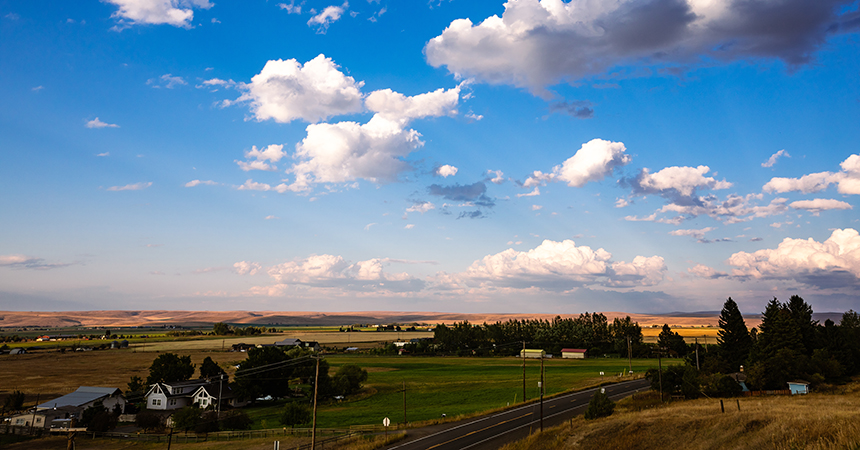 In August, an isolated storm with high winds and dense hailstones large enough to puncture a roof struck the Northeastern Oregon city of Wallowa. In a community of just 800 residents, nearly 300 homes suffered damage to roofs, windows, external HVAC units and interior spaces; a community survey revealed almost a third of damaged properties were uninsured.
Now, Energy Trust is working with local organizations to help residents rebuild with energy efficiency in mind.
"Energy Trust's experience supporting rebuilding efforts is providing opportunities to take a more flexible, proactive and collaborative approach in delivering energy offers," said Caryn Appler, Energy Trust's Eastern Oregon outreach manager. "This approach is essential in serving communities impacted by natural disasters and those that have been historically underserved by energy programs."
With frequent power outages caused by bad weather, many Wallowa residents choose alternative fuels like wood, oil and propane, which stay on when the power goes out. This makes them ineligible for some Energy Trust incentives.
After the storm, Energy Trust created flexibility to make its incentives available to all residential customers of Pacific Power in Wallowa, regardless of how they heat their homes. Incentive offers are designed to lower or eliminate the upfront cost of energy-saving improvements like installing high-efficiency windows and insulation.
A study of local power use showed people heating with alternative fuels often supplement with electric heat, so energy-saving projects could still help lower their energy use and costs. What's more, Wallowa's population is on average older with lower median incomes and limited access to services available in larger communities. This means many of the residents already face a high energy burden.
To help connect residents with support, Energy Trust is working with local groups like Blue Mountain Region Long-Term Recovery Group and Wallowa Resources and coordinating with other funding sources like Oregon Department of Energy.
Blue Mountain Region Long-Term Recovery Group, a Umatilla County disaster preparedness group, is helping residents understand all the resources available to them. For instance, in many cases Energy Trust incentives can be combined with money from Oregon Housing and Community Services' State Home Oil Weatherization program.
Wallowa Resources is a community-based organization engaged in land stewardship, education and job creation. Working with Energy Trust, it is offering customers with storm damage free home energy assessments, higher incentives for home projects and ductless heat pumps at no cost for customers with low incomes.
With much of the rebuilding expected to take place in in 2023, Energy Trust will continue supporting Wallowa through targeted outreach to customers and contractors and ongoing work with Blue Mountain Long-Term Recovery Group.