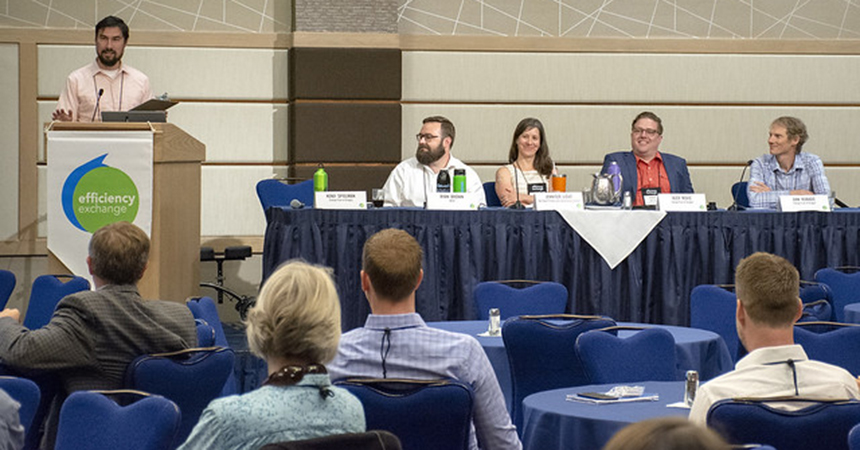 Left to right: Kenji Spielman, Energy Trust of Oregon; Ryan Brown of Northwest Energy Efficiency Alliance; Jennifer Light, Northwest Power and Conservation Council; Alex Novie, Energy Trust; and Dan Rubado, Energy Trust.
In May, several Energy Trust staff presented at the Efficiency Exchange 2019 conference in Coeur d'Alene, Idaho. This annual conference is regarded as a premier learning and networking event for energy efficiency professionals across the Pacific Northwest—a place for public and private utilities, consulting and research firms and government and nonprofit organizations to come together to learn how to help the region achieve its energy efficiency goals.
Energy Trust staff participated on panels that discussed diversity, equity and inclusion and innovative whole building and multifamily energy efficiency programs.
Diversity, equity and inclusion panels
Alex Novie, senior project manager, joined Jennifer Finnigan from Seattle City Light to discuss three different approaches to defining and measuring equity in energy programs: California Energy Commission (CEC), Energy Trust and Seattle City Light. Energy Trust and Seattle City Light each recently launched equity initiatives with specific definitions and metrics around equity in energy-efficiency programs, while CEC has established metrics and community advisory boards. This interactive session explored the barriers and opportunities to addressing equity in energy programs and encouraged participants to define what equity means to them, and their organizations.
Kenji Spielman, planning engineer, Dan Rubado, evaluation project manager, and Alex Novie along with Jennifer Light from the Northwest Power and Conservation Council and Ryan Brown from Northwest Energy Efficiency Alliance, presented conceptual frameworks that outlined the importance of considering underserved communities when developing baseline energy use assumptions and creating program offerings. Specifically, they explored how certain demographic groups may be less able to access incentives or offerings, despite having the potential for higher energy savings per unit than the average customer.
The panel explored the need for more granular demographic and geographic research on existing energy use conditions and purchasing habits to inform savings estimates and other program design considerations. The members discussed opportunities to advance this research to improve our capabilities to target underserved communities. To read more about the research and analysis Energy Trust has conducted in the past year, read the 2018 Diversity, Equity and Inclusion Data and Baseline Analysis available on Energy Trust's website.  To find out more about this panel and download the presentations, visit the Conduit website.
Whole buildings panel
Jessica Iplikci, senior program manager for the New Buildings program, joined a panel discussion about the role whole-building programs can play to meet local decarbonization goals. Whole building programs are a custom approach that considers the entire building when determining efficiency upgrades, rather than incentives structured for individual upgrades.
Jessica presented on Energy Trust's Path to Net Zero offering, which provides increased design, technical assistance, construction, measurement and reporting incentives to new commercial construction projects to exceed energy code by 40 percent through a combination of energy-efficiency and renewable energy features.
The panel explored how whole-building programs fit in with larger carbon policy trends and how they can evolve to meet state and local decarbonization goals. Panelists provided an overview of the changing policy and regulatory context, financing strategies, opportunities and barriers for programs.  Jessica was joined on the panel by Colm Otten, Seattle City Light; Jessica Raker, Puget Sound Energy; Deborah Reynolds, Washington Utilities and Transportation Commission; Blake Shelide, Oregon Department of Energy; and Kevin Smit, Northwest Power and Conservation Council. To find out more about this panel and to download the presentations, visit the Conduit website.
Multifamily panel
Alex Novie also joined Tom Lienhard from Avista and MacGregor Snow from Puget Sound Energy on a panel about innovative ways to engage multifamily residents. Alex discussed how Energy Trust's Existing Multifamily program has used data analytics to identify multifamily customers across Energy Trust's service territory and explore participation patterns to inform targeted customer engagement, program market assessments and equity strategies. To find out more about this panel and download the presentations, visit the Conduit website.
To learn more about the Efficiency Exchange and to view all of the presentations from the conference, visit the Conduit main page.
Next year, the conference will be held in Portland. To register for the 2020 Efficiency Exchange, check here next spring for more information.