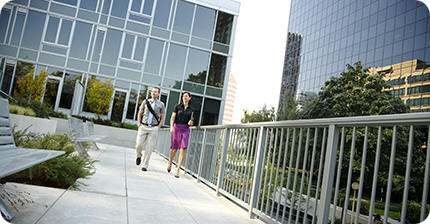 In early May 2013, Energy Trust issued a Request for Proposals, RFP, to re-bid the Program Management Contract for its New Buildings program. The selected contractor will design, develop, manage and implement New Buildings program strategies, delivering energy savings and contributing to reaching Energy Trust's annual and five-year goals. It is Energy Trust Board of Directors policy and national best practice to competitively bid out contracts periodically—ensuring delivery of effective services and sustained value for ratepayers.
Energy Trust received six notifications of intents to respond. Five of the respondents indicated that they are interested in teaming. The due date for proposals is July 10, 2013.
In July, a panel of staff and external experts will review the proposals, interview the most competitive candidates and make a recommendation to the board of directors. The winning bidder will negotiate with Energy Trust for a two-year contract starting January 1, 2014, with three optional one-year extensions. To provide seamless customer service to businesses that receive Energy Trust assistance, a three-month transition may be implemented in September.
Energy Trust New Buildings provides cash incentives for energy-efficient equipment and design services for new construction, major renovations, tenant improvements and additions in commercial buildings and multifamily properties. Program offerings for Oregon customers of Portland General Electric, Pacific Power, NW Natural and Cascade Natural Gas include support for custom whole building approaches, packaged solutions by market segments, prescriptive systems approaches and post-occupancy commissioning.
Find more information in the RFP at www.energytrust.org/opportunities.