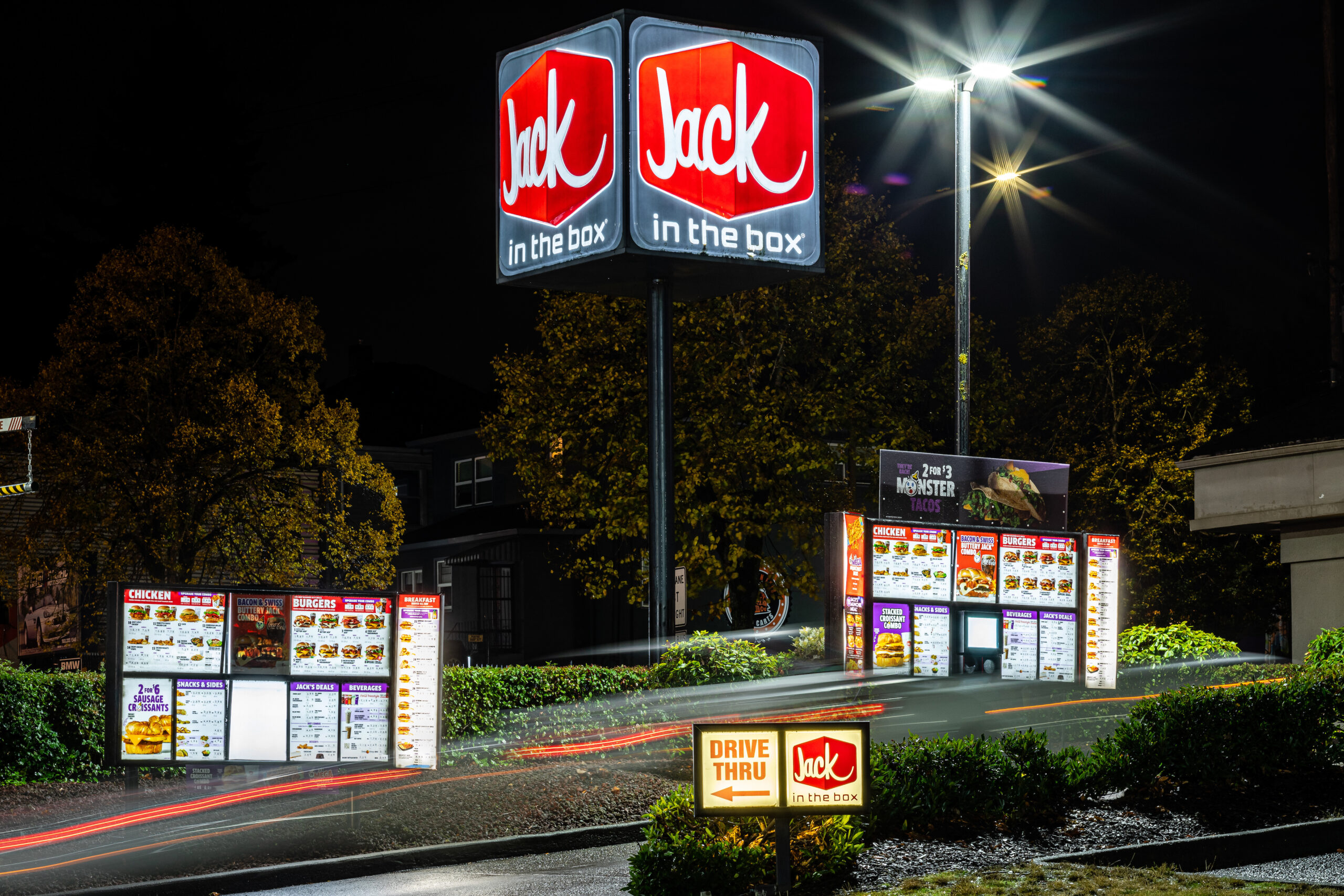 Menu board lights are often overlooked until the lights are failing. It's not easy to order a burger or taco from inside a restaurant, or your car, when the options are flickering or not lit at all. Jack in the Box franchise owner Rajeev Gupta knows the value of well-illuminated menu signs and the cost of maintaining them.
"Menu boards are standard equipment at any fast-food restaurant," said Gupta, "so it makes sense for owners to look at how to operate them most efficiently while getting the best possible light from the lamps used in them." He is pleased to have discovered direct-install LED sign lights, products that far outlast fluorescents, while also improving lighting quality and energy savings.
Gupta is CEO of Northwest Group Inc., which owns 41 franchises in Oregon and Washington. As part of the Jack in the Box chain, whose motto is "thinking outside the box" about fast food menu trends, Gupta and Northwest Group controller Pooja Sheth have embraced that idea when analyzing purchasing, facility upgrades, and energy costs too.
Following successful interior and exterior lighting projects at most of their locations in Oregon, Gupta and Sheth were looking for additional energy and cost-saving opportunities that would also qualify for Energy Trust incentives. The cost of replacing menu board tubes jumped out in their purchasing tracking system, so they investigated options. "One fluorescent tube was costing us upwards of $30, and we have at least 20 of them per location, plus installation costs," explained Gupta.
Talking with manufacturers and Energy Trust Business Lighting Program senior account manager Tom Morin, Sheth determined that LED costs have gone down and technical improvements have made it much easier to install them as a direct replacement in existing signs. Plus, incentives help reduce upfront costs even more. The math and other benefits all made sense.
Northwest Group Inc. decided to upgrade interior and exterior menu boards at 28 Oregon Jack in the Box locations, and worked with trade ally Dave Sams of Advance Electric Signs for the installation. With up to three dining rooms and six drive-through menu boards per location, the total estimated cost of installation across all 28 restaurants is about $34,000. An estimated $12,000 incentive from Energy Trust will reduce upfront costs to approximately $24,000.
"When we factor in an estimated energy cost savings of almost $16,000 per year, this lighting upgrade is an efficient decision for our business," said Gupta. "Plus, keeping up with technology is essential, and LEDs are the right way to go." While some product supply delays slowed the schedule, most of the installations are complete and Jack in the Box is happy with the results. "The menu board logos are noticeably brighter. And as the days start getting shorter and darker, the new lamps will really help the menu items stand out."
Beyond their energy savings, LEDs offer several other benefits for fast food restaurants, which often keep sign lights on 24/7. Changing out menu lamps takes time and the expense of bringing in a contractor who knows how to handle the sign cases with care. Since LEDs maintain consistent quality light for up to 50,000 hours (five years), they don't have to be replaced as often as fluorescents, resulting in lower product replacement and labor costs. LEDs come in a wide range of sizes to match older fluorescents, and new kits can make the swap from standard fluorescents much easier for certain projects, often using the same socket. Because LEDs perform better in cold weather, they are an especially good option for exterior signs.
Menu boards and other lit signs are everywhere, making them an accessible energy-saving opportunity for business owners and trade allies. "We want to improve energy use at all of our sites in every way we can," said Gupta. "LEDs are better for the environment and improve our signs. Why not do it?"
To start saving today, visit www.energytrust.org/incentives/existing-buildings-lighting, email lighting@energytrust.org or call 800.326.2917