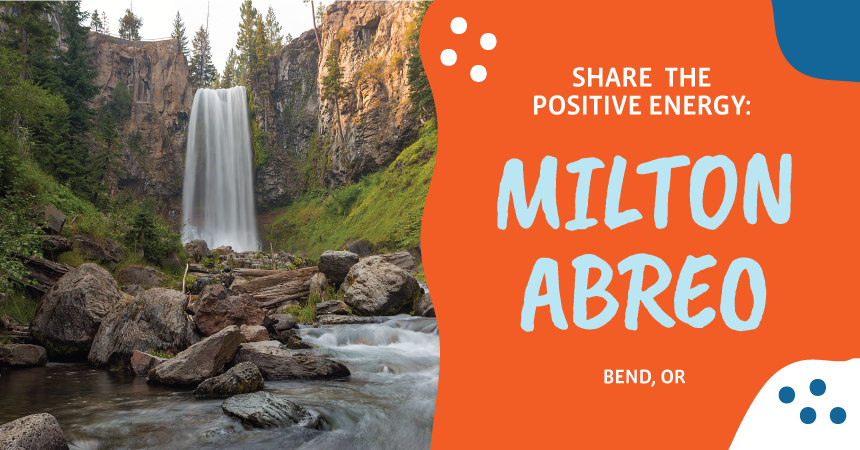 Our search for energy savers takes us to Bend, Oregon, where we chatted with Milton Abreo. Milton and his family love skiing, enjoying the great outdoors and living sustainably.
After retiring in 2016, Milton wanted to be in a smaller town with skiing facilities close by. Bend was the perfect fit. He purchased a home with his spouse, their son and dog, and quickly fell in love with the community and natural beauty of the area.
Once settled, Milton started working on his next goal: making the home as sustainable, resilient and energy efficient as possible. "I really want to reduce my footprint on this planet, and I'm conscientious about it. My goal is to get to net zero," he said.
Milton's home is newer, so it already has energy-saving features such as double pane windows and an efficient heating and cooling system. The changes he's making now are future focused. The family has a plug-in hybrid car and recently completed a rooftop solar installation with support from Energy Trust of Oregon.
Milton was encouraged by the solar incentives and financial assistance available to make renewable energy solutions more accessible. He received standard incentives for his project, but appreciates that programs like Solar Within Reach offer additional support to qualified households. "I'm retired, and I like that there are incentives for different income levels. Solar is available for people who want it," he said.
Powering the home with solar is a big part of Milton's plan to achieve net-zero energy use. He's not quite there yet, but he's much closer now, and he's seeing very small energy bills even in winter.
Along with the savings, Milton is a big believer in conservation for the greater good, like preserving what makes Bend so special.
"Loving Bend is not just about the beauty it has, but also conserving that beauty."