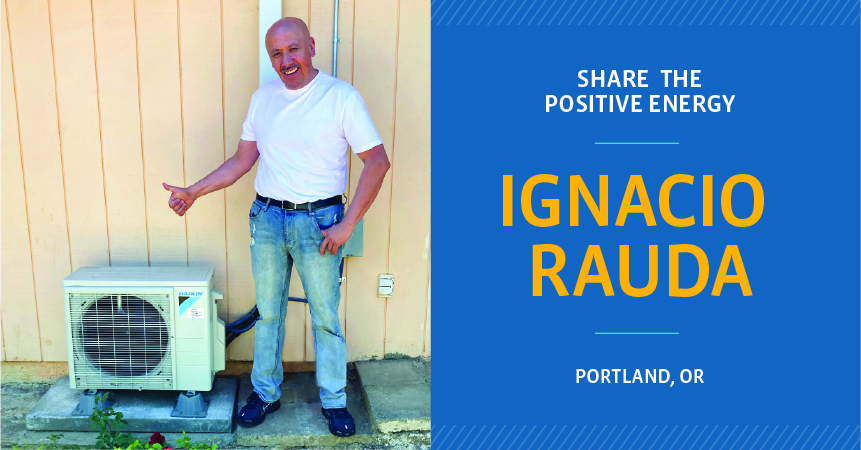 Ignacio Rauda lives in North Portland with his sister and a blue-eyed cat he calls "mi niña." After seeing his energy bills climb last winter, he was happy to learn from a family member that Energy Trust of Oregon and Verde, a Portland-based nonprofit, were offering low-cost ductless heat pump installation in the neighborhood.
"One of the things I was dealing with was spending a lot of money on energy," Ignacio said. "The old heater would work, but it would use up a lot of energy. And a $200 energy bill is not an easy thing to see."
Verde's mission is to give all Oregonians access to affordable and efficient energy services regardless of income or circumstance. Verde is working with Energy Trust to provide home assessments and increased incentives that lower the cost of energy upgrades for qualified homes. Ignacio quickly saw an answer to his heating problem.
"The way I see it, you should take advantage of the opportunity, whichever you have, wherever you are. The goal is to keep moving forward. That's why I feel grateful," he said.
Ignacio's new ductless heat pump has already lowered his heating costs, and since the system also includes air conditioning, it made an immediate difference in the summer as well.
"The day after they installed the ductless heat pump, the temperature rose to 100 degrees. But on that super-hot day, it was very cool inside when I got home. It was a feeling that made me say 'caray!'"
Now Ignacio can enjoy the things he loves most. Whether he's watching a favorite science fiction movie, returning from a walk around the neighborhood or cozying up with his cat, his home is nice and comfortable, and he's saving on energy costs.
Learn more about our community partner Verde, and find Energy Trust incentives for energy-efficient heating and cooling solutions.
Share your story, inspire others
Energy savers, we want to hear from you! If you're excited about home improvements you've made with help from Energy Trust, we welcome you to share your story.