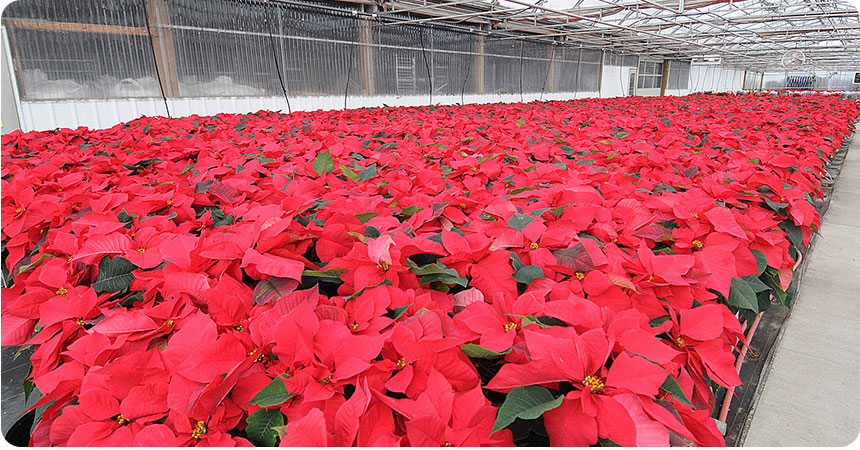 Bright red poinsettias signal the holiday season is in full bloom at Peoria Gardens, a wholesale bedding plant nursery in Albany, Oregon. The nursery received cash incentives from Energy Trust for several greenhouse upgrades that have improved equipment efficiency while controlling operating costs, creating a quality greenhouse environment that also happens to be energy efficient.
"We weigh the options to upgrade with what our facilities will need in the future," said Ben Verhoeven, owner, president and general manager of Peoria Gardens. "While the energy-efficient option may come with a higher price tag upfront, incentives from Energy Trust make the payback doable. We are here for the long haul, saving money on our utility bill and using fewer resources."
By making business decisions day to day with long-range objectives clearly in mind, and working with Energy Trust, Peoria Gardens has achieved on-going, deep improvements in the efficiency of their operations. Since 2009, the nursery upgraded to greenhouse condensing unit heaters, thermal curtains, triple wall and roof polycarbonate, and a high-efficiency boiler. The new thermal curtains automatically deploy to help cut down on heat loss during the long winter nights. The curtains can also be used for shade in the summer. Covering three acres, or about half of the nursery's greenhouses, the thermal curtains help reduce irrigation needs, produce a better quality plant and save an estimated 12,000 therms of energy annually.
Peoria Gardens also replaced single-wall glass in an older propagating greenhouse­ with triple-wall infrared polycarbonate on the walls and roof. The new covering lets in clearer, better light and insulates for estimated energy savings of 55,600 therms per year.
Most recently, Peoria Gardens installed 46 new, high-efficiency condensing heaters, in all of its greenhouses. Energy Trust provided $53,700 in cash incentives for the new heaters which are estimated to save 73,900 therms annually.
While Peoria Gardens received over $177,000 in Energy Trust incentives for these projects, the nursery is not done yet. "We are always looking at new measures we can install," says Verhoeven. "It's the right thing for the nursery and the environment."
View a list of the cash incentives available for greenhouse upgrades.