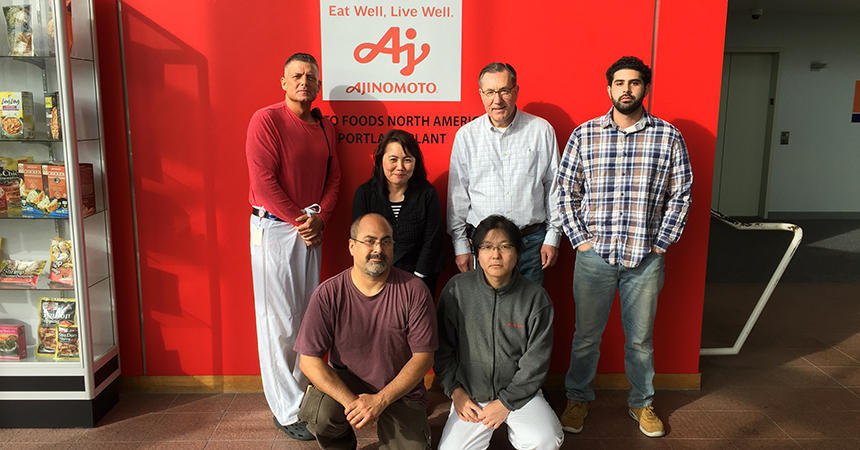 Photo courtesy of Ajinomoto's SEM team. From left, back row: Jeff Nua, Yuko Maekawa, Lew Feucht, Khaled Abdel-Rahim, Terry Johnson and Shigeru Nakano
When employees at Ajinomoto Foods North America, Inc. in Portland, which produces Asian frozen foods ranging from fried rice to pot stickers, went on a plant-wide search for no- and low-cost savings opportunities, they uncovered a treasure trove in mere hours. The treasure hunt was one of Ajinomoto Foods' first activities during Strategic Energy Management (SEM)—an Energy Trust of Oregon offering that helps organizations identify significant cost-saving opportunities and capture energy savings with continued learning and support opportunities.
"We gathered 15 employees from throughout the plant, including representatives from accounting, human resources, maintenance, production and more," said Lew Feucht, maintenance manager. "Together with Energy Trust industrial experts, we broke into teams, fanned out into the plant and spent three hours looking for ways we could trim energy costs. We found more than 100 opportunities!"
For some employees, this was the first time they had ventured into different parts of the plant, and their fresh eyes were invaluable. "Employees who work in an area get used to how things are done," said Feucht. "Someone new asks tough questions, such as: 'Why are those lights on now?' or 'Does that hissing mean there's a compressed air leak?'"
After the treasure hunt, employees sorted the savings opportunities into categories based on potential energy savings and cost or effort required. Ajinomoto Foods immediately began implementing high savings/no-to-low cost opportunities, and within weeks had accomplished 11, including:
Adjusting economizers on the heating, ventilation and air conditioning system to reduce outside air
Replacing and/or recalibrating thermostats
Installing motion sensors to control utility-area lights that were previously on 24/7
Lowering steam pressure on cookers by 10 PSI
Replacing seals on freezer and roll-up doors and adjusting freezer temperatures
Adjusting variable frequency drives on compressed air systems
Another 25 energy savings opportunities are in process, such as installing variable frequency drives on condenser fans and removing a 40-horsepower exhaust fan that's no longer needed because production has changed.
"When we started SEM, we set a goal to cut energy use by 240,000 kilowatt hours a year," said Feucht. "In the quarter after the treasure hunt, we saved 100,000 kWh. If we did nothing else this year, we're projected to double our goal. But we're just getting started."
According to Feucht, SEM is helping to drive energy awareness into the company and support Ajinomoto's group shared value: environment, including sustainability of the earth, energy reduction and cost reductions as economical value. "Now, when we buy new equipment or lay out a room, we make sure energy savings is part of the planning."