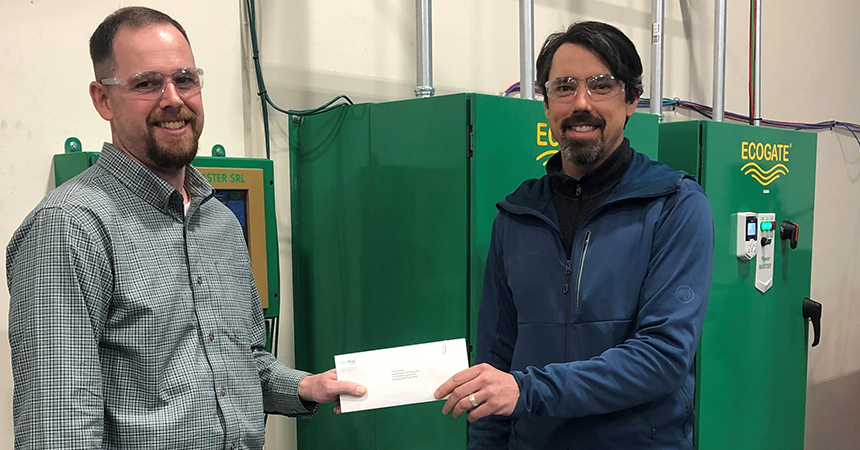 Leatherman Tool Group, Inc., famous for its best-selling multi-tools, prides itself on putting reliable, well-crafted products in the hands of its customers worldwide. They turn that same attention to detail to their manufacturing process—making sure it is as seamless and energy-efficient as possible.
A recent air abatement project completed at Leatherman's Portland facility is expected to save 714,600 kilowatt hours of electricity and 13,300 therms of natural gas annually. Energy Trust of Oregon provided cash incentives of $157,734 toward the overall project cost. It marks the latest in a list of energy-efficient investments completed by the company since 2011.
In late 2017, the company wanted to rethink the factory layout and create a more linear manufacturing flow. In the process, they realized the dust collection ductwork would need to be relocated. According to Corey Kanaly, facilities maintenance supervisor, it was an excellent opportunity to re-engineer the whole system. While a dust collection system is critical to good indoor air quality, the process consumes energy as the dust collector continuously produces air flow, even if all the machines aren't running.
"Before making the investment, we studied which machines were being utilized and how often," Kanaly explained. "We discovered that several machines weren't running throughout the day and identified this as an excellent area for energy savings."
Leatherman selected a new automated control system for their existing dust collectors that detects when machines need dust collection in real time. The system relies on a series of control gates to open and close based on which machines require dust collection, only using energy when needed. After the last machine is shut down, the system turns itself off within 180 seconds. It starts up automatically once the first machine is turned back on.
"The new control system has been working extremely well," Kanaly continued, "and we've been averaging around 67 percent energy savings, which is a significant improvement."
Leatherman's facilities experts have made energy efficiency a priority when upgrading systems or investing in new equipment. Over the past eight years, the company has implemented 16 projects, ranging from lighting and HVAC to compressed air and Strategic Energy Management, that have saved the company a total of more than 4,000,000 kWh of electricity, 42,200 therms of natural gas and earned $701,889 in cash incentives.
"We take these capital expenditures seriously to make sure they pay off," Kanaly explained. "Energy Trust's incentives help us meet our goal of a two- to three-year return on investment."
Energy Trust provides technical resources and cash incentives for energy improvements like this at sites served by Portland General Electric, Pacific Power, NW Natural, Cascade Natural Gas and Avista. To find out more about incentives for industrial systems and equipment, visit: www.energytrust.org/industry.