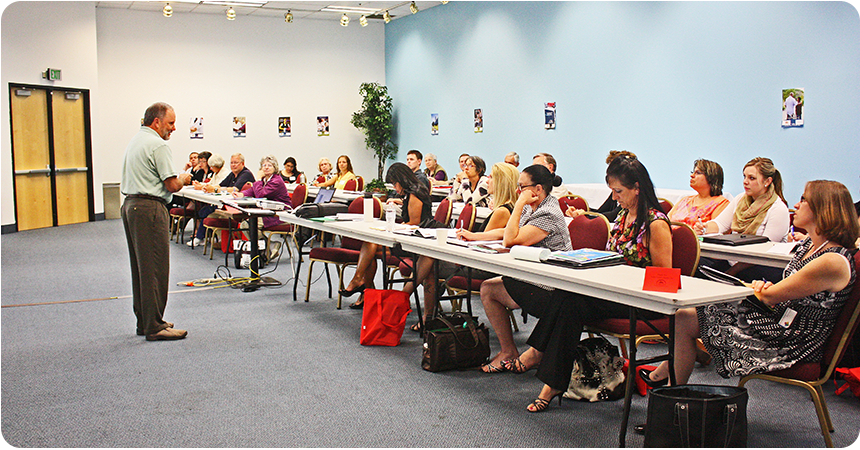 Four Rivers Cultural Center, a nonprofit cultural facility in Ontario, has taken a modern approach to energy management to save energy, control overhead costs and improve productivity for employees.
The cultural center operates in an 81,000-square-foot facility that houses a museum, offices, art gallery, conference center, seven classrooms and the student services department for Treasure Valley Community College. A busy slate of diverse activities has a major impact on the building's energy consumption. For years, the cultural center operated with its original 1997-era thermostat controls that needed to be adjusted manually. With approximately 30 individual thermostats spread across the facility, it took hours for the staff of five to update heating and cooling controls based on the daily schedule.
At a recent outreach event co-sponsored by Energy Trust and Cascade Natural Gas, Four Rivers staff learned about ways the nonprofit could save on its energy bills. The cultural center installed a programmable thermostat control system that allows staff to manage heating and cooling throughout the building from one central location. In addition to saving energy and money, the new controls have reduced five hours of work per week to just 20 minutes, freeing employees to manage other jobs.
Energy Trust provided a cash incentive of $5,888 toward the energy-saving investment. Four Rivers expects the new building controls to save more than 2,900 therms of natural gas and more than $2,700 on annual energy costs. The nonprofit is reducing its electric bill, too, and earned cash incentives from Idaho Power for upgrades estimated to save 28,000 kilowatt hours of electricity annually.
"As a nonprofit, our budget is very finely managed," said Brandon MacKenzie, marketing manager, Four Rivers Cultural Center. "Saving money on energy means we have funds to make aesthetic improvements, update neglected rooms and infrastructure and even replace basic equipment such as chairs and tables. The overall result means a more positive perception of our facility in our community and the increased rentals and support that comes with it."
Learn more about cash incentives for high-efficiency natural gas equipment here.