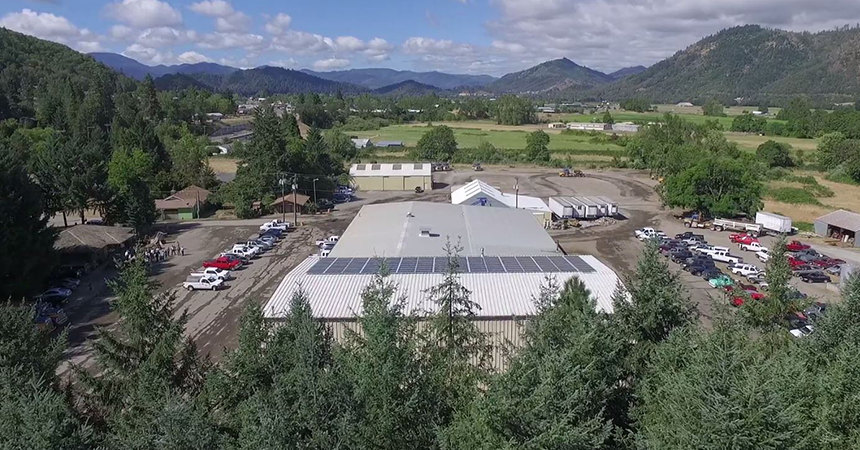 This July, Ireland Trucking celebrated the installation of a 35-kilowatt solar electric system at its Myrtle Creek-area headquarters. One of the largest log hauling companies in the Pacific Northwest, Ireland Trucking has met the demands of Southern Oregon's timber industry for 70 years. Now solar energy will help the company meet that demand while cutting its energy use.
The event featured Douglas County Commissioner Susan Morgan, State Representative Dallas Heard and remarks from Energy Trust of Oregon Board Vice President and Myrtle Creek resident Ken Canon.
"Ireland Trucking has a long history of adopting advanced technology and practices to stay competitive in our industry," said Charles Ireland III, general manager, Ireland Trucking. "With help from Energy Trust, we are now able to utilize our own renewable energy."
With 124 solar panels installed on the roof of a truck maintenance shop, the system will produce about 30 percent of the energy needs at Ireland Trucking's headquarters. The panels were manufactured at the SolarWorld USA factory in Hillsboro.
"Ireland Trucking shows how energy efficiency and renewable energy can power Oregon businesses," said Ken Canon, vice president of the board of directors, Energy Trust. "Like Ireland Trucking, more than 1,000 companies across the state are harnessing solar power to manage their energy costs with the help of Energy Trust."
The project received a $32,701 cash incentive from Energy Trust. Energy Trust offers assistance and cash incentives to help businesses and residents invest in local, renewable power, and lower their utility bills with energy-efficiency improvements. Ireland Trucking's new solar power installation also received a U.S. Department of Agriculture Rural Energy for America Program grant and an Oregon Department of Energy Renewable Energy Development grant.