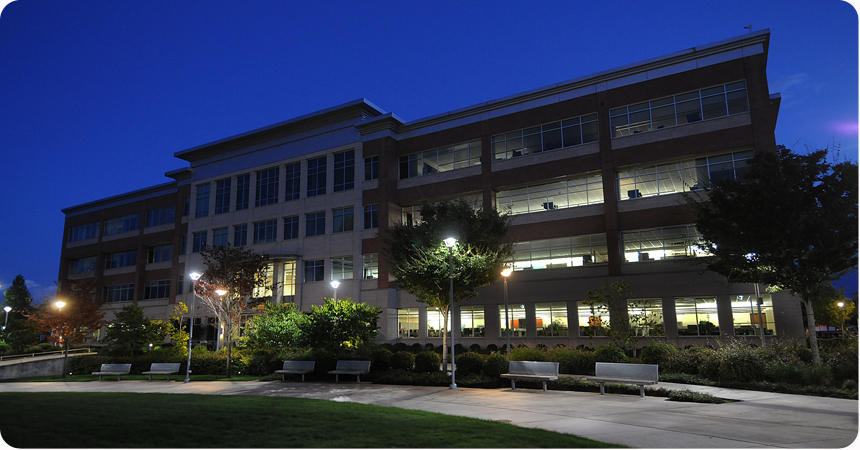 Energy Trust of Oregon expertise and cash incentives helped two energy-efficient Clackamas County buildings save even more energy and reduce operating costs while improving safety through the development of motion-sensitive lighting.
Although the Leadership in Energy and Environmental Design, LEED®, certified buildings used minimum nighttime emergency lighting required by the fire marshal's standards, the buildings' open floor plans allowed this lighting to be seen clearly from the street. Though it was designed to simply illuminate pathways around open cubicles, along hallways and in the lobbies for safety, the public began to raise a collective eyebrow at what they assumed were lights being left on all night in both buildings.
The county thought its hands were tied because of fire safety requirements. But then the facilities team countered with an idea. "If we could install motion sensors for the safety lighting, lights would only need to come on in areas when people were actually present," said Jeff Jorgensen, facilities manager, Clackamas County.
Clackamas County collaborated with Johnson Controls, Energy Trust, the Clackamas County Office of Sustainability and the Clackamas Fire District fire marshal to develop a motion-sensitive relay system. This system triggers emergency lights to come on only when people are actually in the building, and saves the county more than 25 percent in nighttime energy bills while still meeting safety standards. The project cost the county just under $75,000, and Energy Trust provided $18,000 in incentives in addition to technical assistance.
"Our ongoing goal is to reduce the amount of energy consumption in the county to minimize costs," said Jorgensen. "The dark buildings project fits in well, and we'd like to do it in more buildings across the county."