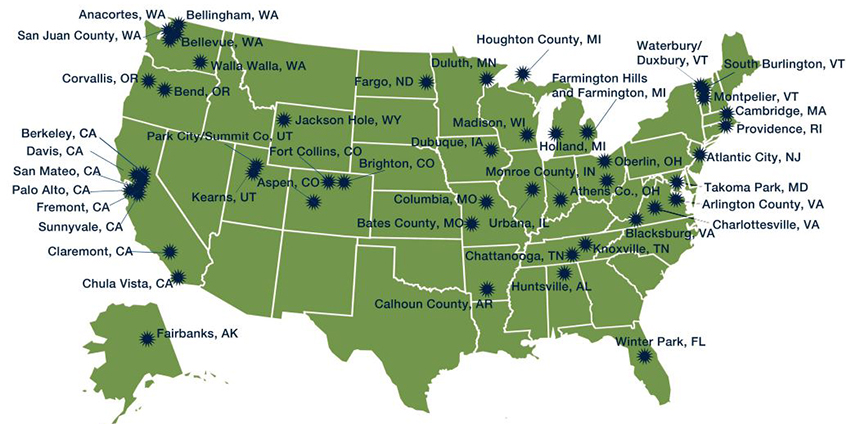 Two Oregon cities top the list of 50 semifinalists competing for the Georgetown University Energy Prize, a national $5 million competition to rethink the way American communities use energy. According to preliminary rankings, Corvallis is in 10th place and Bend ranks 11th.
The Corvallis Environmental Center and the Corvallis Sustainability Coalition are working together to help Corvallis residents Take Charge of their energy use through simple actions like fixing leaky faucets, installing energy-efficient showerheads, biking or walking to work and installing smart power strips for electronics.
Led by the The Environmental Center, Bend's Energy Challenge efforts brings together residents, businesses and the city to save energy by offering free LED bulbs in collaboration with Energy Trust, educating sixth graders about renewable energy and conservation and upgrading city-owned streetlights to LED bulbs. The Environmental Center encourages residents to tackle one small change at a time to add up to big energy savings—in January, residents are encouraged to change their furnace filters to reduce energy use and improve the quality of their indoor air.
Culled from hundreds of interested communities, Corvallis and Bend have devised long-term energy plans and are now demonstrating the effectiveness and sustainability of these plans over a two-year period, with a winner announced in 2017. The cities span 26 states, from Fairbanks, Alaska to Winter Park, Florida.