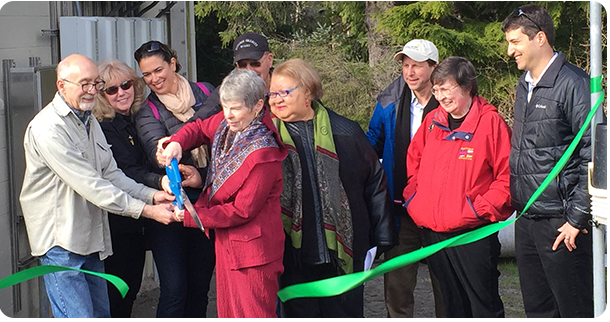 On March 2, the City of Astoria celebrated its first renewable energy project, a new 30-kilowatt hydroelectric turbine. Located near Bear Creek Reservoir, the hydropower system will save the city an estimated $9,000 in annual energy costs. Expected annual generation is approximately 150,000 kilowatt hours, which is enough energy to offset the power usage of the city's water treatment plant and also sell excess generation to Pacific Power.
Energy Trust of Oregon provided project development assistance and a $143,000 incentive for the project. "This is a great example of the opportunity municipalities have to generate electricity within their drinking water systems," said Peter West, director of energy programs, Energy Trust. Additional funding was awarded from Pacific Power's Blue SkySM renewable energy program, Business Oregon Infrastructure Finance Authority and the City of Astoria.
Legislation sponsored by Oregon State Senator Betsy Johnson in 2013, Senate Bill 837, made it possible for small hydropower projects like Astoria's to comply with fish and wildlife permitting processes by paying into a fund supporting fish passage restoration efforts in Oregon.
The public/private collaboration on the project resulted in multiple benefits—generation of clean power, an additional revenue stream for the city and economic development from the project's construction.
"I am thrilled that so many agencies and groups were able to come together to help get the city's first alternative energy project off the ground," said Arline LaMear, mayor, City of Astoria. "This project not only helps power the city with renewable energy, its construction supported the local economy by providing at least 25 jobs for 12 weeks. Hopefully there will be other projects in Astoria and in other communities."