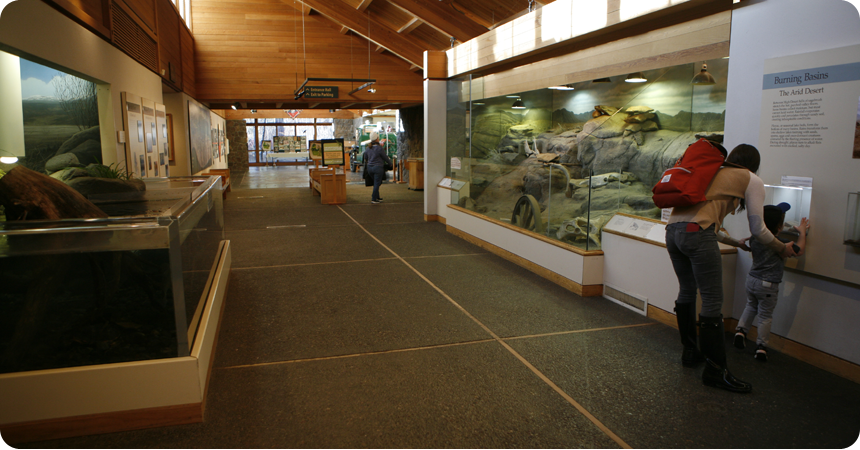 An investment in energy-efficient lighting at the High Desert Museum in Bend has produced multiple rewards for the 32-year-old visitor destination: the museum is saving energy and controlling costs while fulfilling its mission of natural resource stewardship. The museum showcases the natural and cultural resources found in Oregon's high desert region.
The museum's facilities manager prompted Executive Director Dana Whitelaw to investigate an upgrade in lighting technology for the museum's 110,000-square-foot main building. As a nonprofit organization, the opportunity to save on operating costs while reducing energy consumption was too important to pass up. But as a museum professional, Whitelaw knew she needed to consider the aesthetic impact of lighting upgrades.
The High Desert Museum worked with Energy Trust of Oregon to learn more about the latest in energy-efficient lighting and to understand how to implement an upgrade in phases. The facilities team selected LED technology for its impressive energy savings, cooler temperature, light quality and low-maintenance and repair needs. Over time, the museum swapped out incandescent bulbs with 368 LED lamps.
"It is amazing that a simple lighting upgrade has produced a stable environment for our exhibits and a comfortable experience for our visitors," said Whitelaw.
Energy Trust provided cash incentives of $13,011 toward the cost of the energy-saving improvements, which are expected to save more than 89,000 kilowatt hours of electricity annually. The success of the lighting project inspired the museum to upgrade the software that runs its HVAC system with support and additional cash incentives from Energy Trust.
"We operate on a lean budget and keep a close eye on our revenue and expenses," Whilelaw continued. "This project has been a gift. Not only did we save on the hard costs thanks to the cash incentives, but the continuing energy savings will be substantial and have a real impact on our ability to invest those dollars back into the museum and our mission."