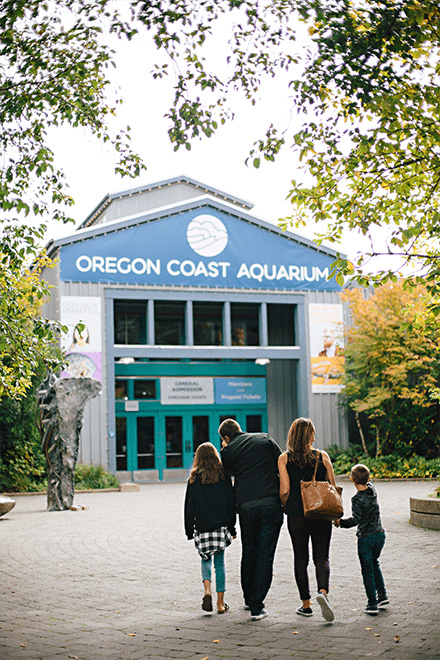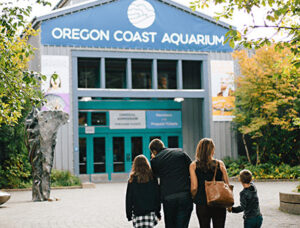 The Oregon Coast Aquarium has substantial energy needs across its 23-acre campus. Energy Trust incentives are helping make upgrades more affordable.
The Oregon Coast Aquarium in Newport has thousands of daily visitors, permanent displays and rotating exhibits of native marine mammals and fish, animal feedings and encounters, dining, and more.
"It's a great place to work," said Bryan Urbach, director of facilities, Oregon Coast Aquarium. "Our team is passionate about the animals and providing visitors with the very best experience. When we open in the summer, the line is from the front door to the parking lot, rain or shine."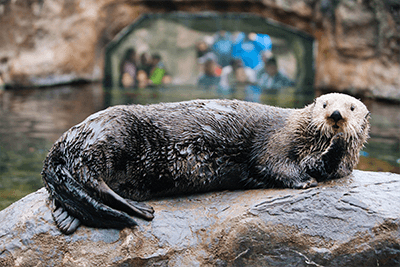 Outdoor exhibits feature marine mammals native to the Oregon Coast, including sea otters, harbor seals and sea lions.
Energy and maintenance requirements at the Aquarium are "pretty complex," Urbach said. One third of the facility's usage comes from pumping water from Yaquina Bay to the Aquarium and back again. Lighting, water heating and 22 HVAC units account for most of the remaining energy costs. Plus, all the equipment it takes to operate the Aquarium requires maintenance and, sometimes, quick replacement. "One of our priorities is finding ways to reduce our power consumption. That's where Energy Trust of Oregon comes in."
The Aquarium had already received cash incentives from Energy Trust for gas fryers in the cafe kitchens and design assistance on a new admissions and ticketing annex and lobby entrance. After the Aquarium's director of development heard an Energy Trust radio ad, she arranged for Energy Trust to visit and discuss the potential for more energy savings.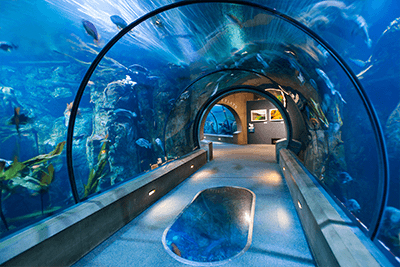 The Passages of the Deep exhibit lets visitors see sharks, rays, rockfish and other native fish up close. One third of the Aquarium's energy usage comes from pumping water from the bay to the Aquarium and back again.
Around the same time, a water heating tank in the cafe ruptured, requiring immediate replacement. A local plumber installed a new 100-gallon gas water heater serving the cafe, kitchen and north restrooms. Though maintenance costs on the new unit would be minimal for some time, purchasing and installation cost nearly $7,800—a substantial fee for a nonprofit that relies on grants and donations to fund its operations.
"For us, the biggest challenge of installing the new water heater was the cost," Urbach said. "It's hard to make long-range plans because we have to see what our funds are like each year, and that changes. Mostly, our approach has to be when it breaks, we fix it."
Energy Trust made the investment more affordable with a $600 cash incentive. Plus, the Aquarium is on track to save 440 therms of natural gas this year, which equates to $330 in savings on their annual energy bills. "I'm glad we met with Energy Trust when we did and applied for incentives," Urbach said. He advises other organizations, "If you're thinking about energy upgrades, plan ahead. Find out what incentives are available to help cover the costs."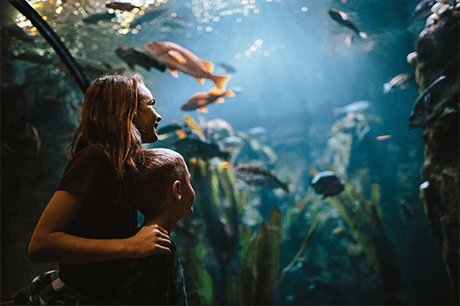 Facility managers are always looking for ways to reduce power consumption while caring for the animals and providing visitors with the very best experience
The Aquarium planned to make additional energy-saving upgrades proposed during Energy Trust's walkthrough earlier this year, including gas water heaters for the husbandry team kitchen and dive shower area. Those plans were put on hold when the Aquarium closed during the COVID-19 pandemic. With the Aquarium now open, they hope to revisit Energy Trust's recommendations.
Find out more about equipment incentives and how they can help your organization at www.energytrust.org/existingbuildings.