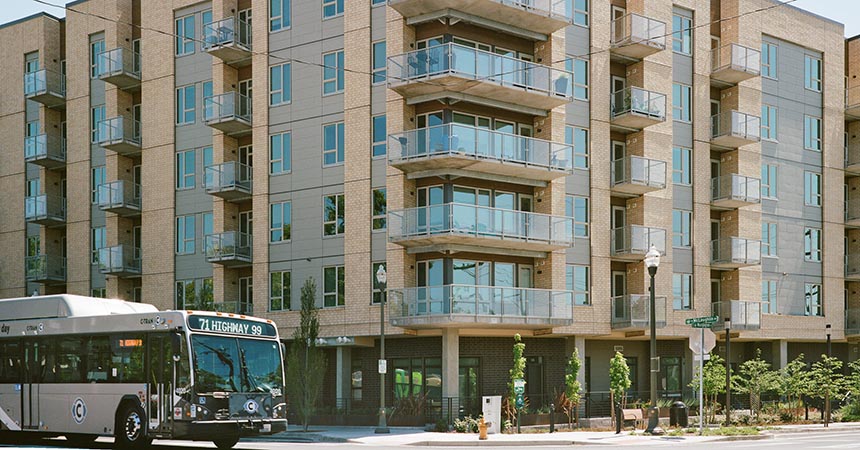 Gonzalo Ramirez, building employee, Uptown Apartments, enjoys using the new Commercial Tank Water Heaters, located within the lower level maintenance room.
The Uptown Village neighborhood of Vancouver, Washington is a vibrant area where visitors and residents alike can browse boutiques, meet friends at coffee shops, shop the farmers' market or join an art walk. With many apartment complexes being built to meet demand in this desirable urban residential area, Cascadia Development Partners knew they needed their new building to stand out. They did just that when they worked with Energy Trust of Oregon and NW Natural to lower energy costs and pass the savings on to their residents at the Uptown Apartments.
Mark Ickert, director of operations at Cascadia Development Partners, understands the importance of installing energy-efficient equipment in new projects. "When we're designing our projects, we try to distinguish them by making a quality build," says Ickert. "We set out to have this building be energy efficient and were aiming for LEED certification." Ickert knew it would take more than advertising new equipment to get leases signed in the Uptown Apartments. "By making energy-efficient installations, we could pass major energy savings along to tenants from day one."
Ickert was familiar with the incentives available for new equipment, through Energy Trust and NW Natural, in the Washington marketplace. Cascadia Development Partners previously worked with Energy Trust to install interior and exterior LED lighting in a retail space project on NW 23rd Avenue in Portland.  We knew that "continuing to work with Energy Trust would maximize what we can put into our projects," says Ickert. "There are great opportunities to cut energy costs and help with equipment payback."
The Uptown Apartments is a six-floor building with 167 units and 8,000 square feet of ground floor retail space. Energy Trust's cash incentives allowed Ickert's team to install four high-efficiency commercial tank water heaters in the Uptown Apartments lower level. The tenants are now saving energy and money, too. "We asked our management company to review gas bills for similar properties in the area and compare them to the Uptown," says Ickert. "On average, the natural gas billing portion for the Uptown is 31 percent less than other properties." Plus, the building is the first and currently only mid-rise multifamily project in Clark County to be LEED Silver certified.
It's not just the developers who are happy about the installations. Ickert says, "Our residents are extremely pleased. They appreciate the quality of the building and that they're saving 70 percent across all their utilities compared to similar buildings in the area. It definitely helps when marketing to potential tenants."
The installations have been so successful that Ickert's team is planning to work with Energy Trust and NW Natural again for energy-efficient equipment installations at an office building with a retail component and a smaller multifamily building, both in downtown Vancouver. "When you're presented with an opportunity for incentives to help cover the costs of premium equipment, you pursue it," says Ickert. "With Energy Trust and NW Natural, you know up front what incentives you'll get, and that definitely helps with budgeting and planning. I'm looking forward to working with them again."
---
PROJECT AT A GLANCE
Uptown Apartments
Four commercial tank water heaters
Financial Analysis
$37,000 project costs
$4,000 Energy Trust cash incentives
Estimated Annual Energy Savings
3,500 therms
$2,800 utility bills savings