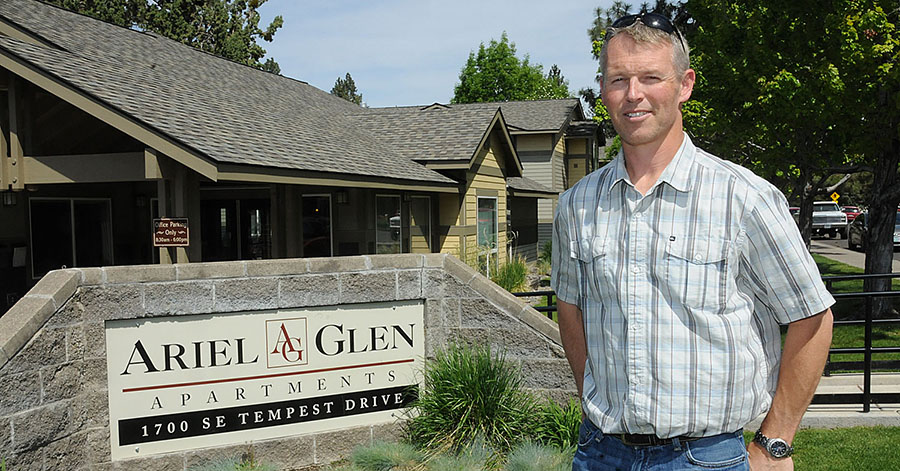 Ariel Glen and Healy Heights, two multifamily affordable housing properties in Bend, Oregon, each completed comprehensive energy retrofits. Now residents, many of them low-income families, are paying less on their utility bills. Updated heating and cooling equipment, in-unit appliances, energy-efficient LED bulbs, faucet aerators and showerheads are part of a two-year project by Housing Works, Central Oregon's housing authority.
Housing Works joined forces with Energy Trust of Oregon to map out upgrades that would lower energy costs for residents and reduce maintenance needs for Ariel Glen and Healy Heights staff. Property managers replaced 140, 25-year-old baseboard heaters with high-efficiency packaged terminal heat pumps and installed energy-efficient refrigerators and clothes washers in qualifying units. These new appliances save over 52,000 annual kilowatt hours of electricity qualified for Energy Trust cash incentives. Housing Works also took advantage of Energy Trust's free instant savings upgrades in all 140 units, which included the installation of LED bulbs, high-efficiency showerheads and faucet aerators that help residents save even more.
Housing Works prioritized these upgrades to maintain the affordability and comfort of the units for residents. Energy Trust provided cash incentives of $56,000 to help offset the project costs, making the upgrade an easy and smart decision. "Our collaboration with Energy Trust helped us upgrade these properties with more energy-efficient models which helps our low-income residents save on their utility costs," shared Keith Wooden, director of Housing Works.