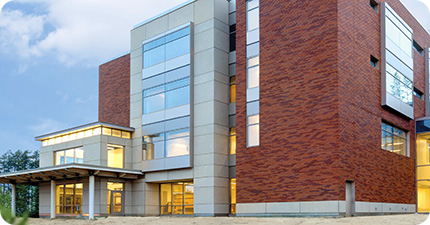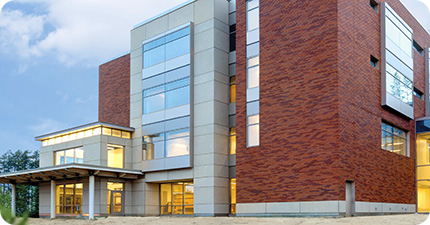 Bay Area Hospital, a regional medical center serving Oregon's south coast communities, recently completed a four-story, 110,000-square-foot addition to its main hospital campus. The addition resulted in a modern healthcare facility that expands patient services and incorporates the latest in energy-saving heating, cooling and lighting technology to help reduce energy consumption and lower operating costs.
In August, Energy Trust provided Bay Area Hospital with cash incentives of $93,194 toward the cost of the early design planning and energy-saving features, which are expected to save 390,833 kilowatt hours of electricity and 47,339 therms of natural gas.
Anne Warrington Donnelly, board member at Energy Trust and executive director of the Coos County Historical Society, and Ed Wales, government sector account manager at Energy Trust, presented the cash incentives to the Bay Area Hospital board of directors on August 26. Former Energy Trust board members Caddy McKeown, Oregon State Representative for District 9, and Joe Benetti, owner of Benetti's Italian Restaurant in Coos Bay, were in attendance, as were representatives from Pacific Power and NW Natural.
A key feature of the new building is a heat recovery system that captures energy generated by mechanical, electrical and computer systems and brings it back into the building's heating system. The hospital installed LED lighting systems throughout the new building in combination with daylighting strategies to use energy more wisely. LED technology was selected both for its energy-saving features and for its long lamp life to reduce maintenance and repair costs.
Find out more about energy-efficiency improvements at Bay Area Hospital.