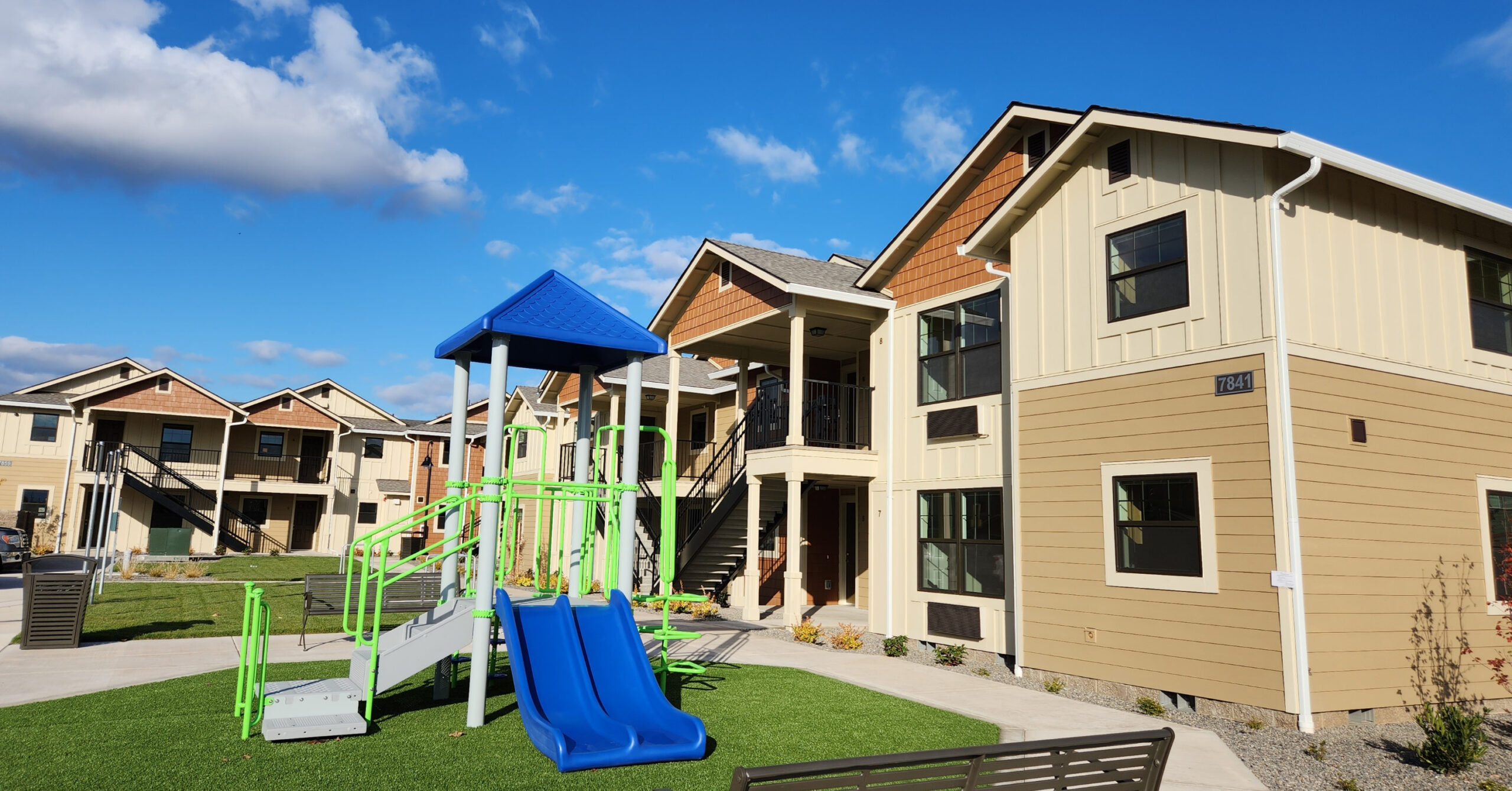 How can affordable multifamily housing construction projects keep costs in check and still include solar? The Housing Authority of Jackson County discovered a way to make it happen.
After HAJC successfully installed a small solar array at a property in 2019, they were enthusiastic about including something slightly bigger at their new development, the Freedom Square II multifamily complex in White City. But cost can be a deciding factor, especially when it comes to affordable housing construction budgets.
HAJC's electrical contractor invited True South, an Energy Trust solar trade ally, to talk with the development team about solar options and Energy Trust increased incentives for affordable multifamily housing properties.
"They were really happy when I showed them how they could stretch their dollars to fit even more solar than they had planned," said Jamie Cavener, True South commercial solar advisor.
Freedom Square II qualified for an increased incentive through Energy Trust's equitable solar initiative that's designed to make it easier and more affordable for eligible nonprofits, tribes and affordable multifamily housing properties to go solar. The $59,000 incentive payment equaled about 34% of the $174,725 project cost, which made it possible to go ahead with the solar installation.
"We added solar power as a way to save on energy costs, and also because it is the right thing to do for the people in our community," said Ryan Hayes, HAJC director of development.
Freedom Square II opened in late 2022. The seven buildings include 50 affordable units for the area's underserved residents—those whose income is 60% or lower than the area's median income—including 12 units reserved for veterans. There's always a waiting list.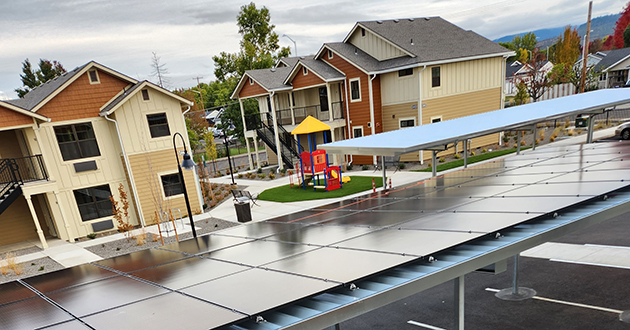 It's a desirable place to live with features like playgrounds, a community space, and protected wetlands in the center of the property, plus the solar array with its 165 panels installed on three carport roofs.
The 60-kilowatt array delivers an estimated 76,000 kilowatt-hours of power annually to one onsite meter that services outdoor functions, such as lighting and irrigation. Any extra power is aggregated to meters serving the complex's community building and the onsite manager's apartment.
The solar energy reduces the property's electric bill—money the housing authority can use to serve the community in other beneficial ways.
"Any savings we're able to realize in utility expenditures at our properties creates opportunities for us to redirect those funds for other purposes, including resident services, new project development or site acquisition," said Haynes.
He added that HAJC is motivated to invest in clean energy sources when they consider the state's population growth, rising temperatures and huge wildfires all putting more strain on the energy grid.
"Multifamily properties need to do our part to limit demand on the state's infrastructure. Solar generation onsite is a way we can do that."
HAJC provides quality affordable homes and rental assistance for more than 4,000 households in Southern Oregon. They plan to keep expanding the number of units and other services to help individuals and families thrive.
Most property development funding sources require that new buildings are solar ready even if they don't install an array from the start. For several years, HAJC has been preparing roofs for later installations, so it is exciting for them to have a couple of properties with functional solar power now.
Hayes credits True South for making the solar installation project surprisingly easy, and reports that the panels are very low maintenance.
"It's important that all multifamily developers do this work. There are opportunities for incentives upfront and significant savings over the life of the projects," he said. "We would love for solar to cover 100% of resident energy needs some day."
If you're interested in exploring solar for your multifamily property, contact us to request a free, no-risk analysis and bid.