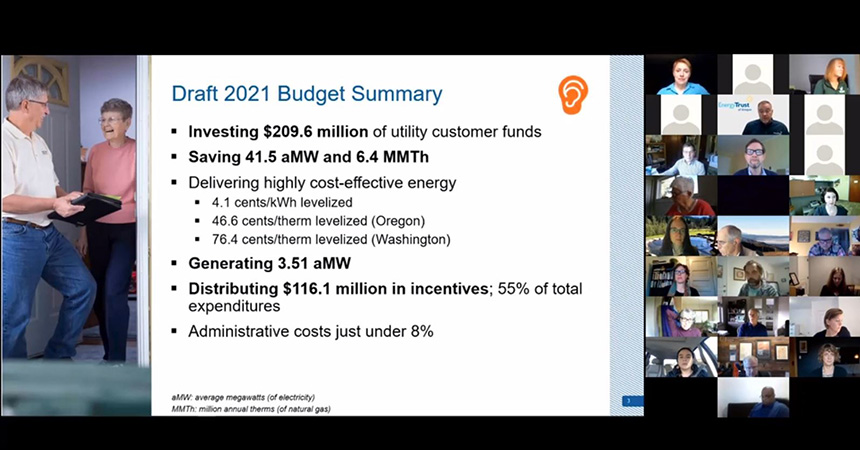 On October 14, Energy Trust held a virtual workshop to share an overview of its Draft 2021 Budget and 2021-2022 Action Plan and hear feedback from Energy Trust's board, advisory council members, community organizations and members of the public.
At the workshop, Executive Director Michael Colgrove presented highlights of the draft budget and proposed activities for 2021 that will help customers benefit from the lowest cost and cleanest energy available—energy efficiency and renewable power.
Then staff hosted shorter presentations and discussions about budget focus areas such as residential, commercial, industrial and renewable energy program strategies; community engagement and outreach; savings resource and cost trends; and the organization's diversity, equity and inclusion actions and investments.
If you missed the workshop, recordings of the event are now available. You can watch a video of key budget takeaways and any of the eight learning sessions hosted by staff.
Public feedback on the draft budget is welcome through October 28. Feedback will guide outreach and program strategies that help Oregon and Southwest Washington utility customers save energy and generate renewable power.
Interested in sharing your input? Visit www.energytrust.org/budget to download the plans and learn how to submit comments.